ATTENTION: Website owners who need more mailing list subscribers....
"Finally! An Easy-to-Use, Versatile, Attractive Opt-In and Advertising Plugin for Your WordPress Website!"
Stop leaving money on the table and start building your mailing list with this powerful tool....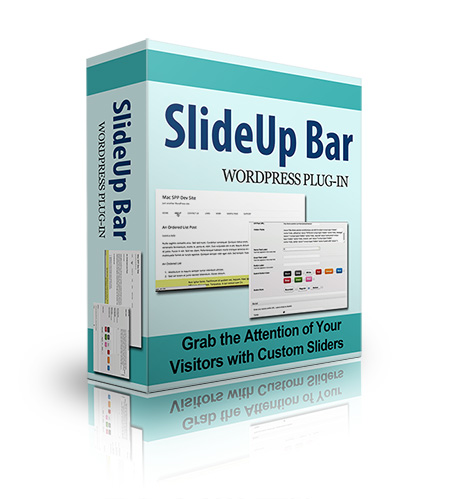 From: Ken Sar
Re: How to grab your readers' attention
Dear Fellow Website Owner,
It seems like it gets tougher every year.
You know you need to build a mailing list, but enticing readers to sign up can seem like an impossible task. That upper right corner placement and a valuable offer simply don't work any more. Here's why:
Visitors have become so "ad blind" and their attention span is so short that if you don't grab them instantly with something new and different, they're likely to click away - often never to be seen again.
You need a better option, so like many marketers before you, you turn to...
Pop-Ups, Pop-Overs, and
Other "In Your Face" Options
Now, I'm not going to tell you that these aggressive tactics don't work. If you've tried them, then you know that a well-timed pop-up can increase your opt-in rate.
They can also annoy the pants off your audience, if you're not careful. The last thing you want to do is force your visitors to close a pop-up on every single page she visits. Yet that's just what some of these tools do.
Yuck!
And that's just for opt-ins. There are other legitimate reasons to use a pop-up as well, but none of the readily available plugins have the ability to:
Politely direct a visitor to a sales page
Notify a reader about a special offer or coupon code
Let her know about your social media pages
All of those things, at one time or other, are equally important for growing your audience and your business, but the creators of pop-up plugins virtually ignore these and other uses, and focus solely on opt-in forms. Leaving you with only one option...
Installing Multiple Plugins to
Handle a Single Job
And if you've worked with WordPress for longer than a week or so, you know this is never a good idea. It can introduce a host of problems, such as:
Site speed issues
Javascript conflicts
Security vulnerabilities
Maintenance issues
And a host of other problems. Who needs that, when you're trying to run a business?
Wouldn't a better solution be a flexible plugin that can handle it all? Here's what you really need - an all-in-one plugin that ...
Grabs your visitors' attention - without being intrusive or annoying
Allows you to use a variety of marketing tools
Is flexible enough for use in many different situations
Is customizable - because one-size-fits-all almost never does
Sound like a pipe dream? Not at all.
An Opt-In or Advertising Plugin that
Just Works - Simply, Affordably, and
Without Annoying Your Readers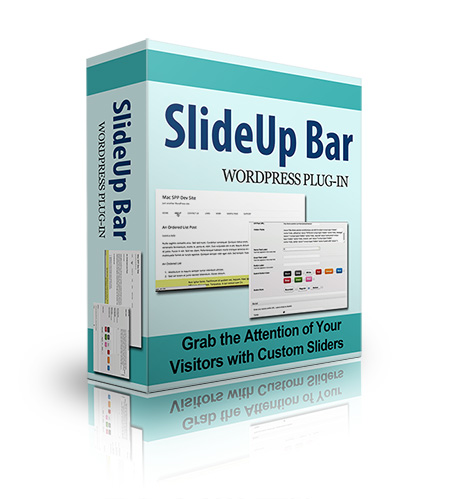 What if there were a way to grab your readers' attention without annoyance and without getting in the way of your content? What if that plugin let you display your slide-up precisely when and where you wanted it, for maximum effect?
I think you'd agree that this plugin would be a valuable tool in your marketing toolbox, and that's just what I thought, too, when I discovered SlideUp.
With it, you'll finally be able to...
Put your opt-in box out of the way - across the bottom of the screen - while still keeping it visible to visitors
Use your own graphics and background colors
Write your own call to action
Use different slide-ups on the home page versus archive pages
Change the slide-up timing, so you can capture their attention without distracting them from your content before they've begun to read
Test offers, headlines, graphics, and colors easily - simply edit your slide-up

In short - everything you've wished for in an opt-in/advertising banner but could never find!
Your new SlideUp Bar features a host of customizable options, such as...
Your choice of three slide styles for maximum flexibility.
Point and click editing for endless styling options.
9 button colors for easy matching or contrasting of your website's theme.
3 button styles for a consistent look.
6 integrated social media links with built-in icons.
The ability to add your own eye-catching graphics for opt-in incentives.
Full access to the familiar WordPress WYSIWYG editor for complete control over fonts, links, blockquotes and more.
Complete control over timing, so your bar appears only when you want it to.
Customizable cookie settings, so visitors only see your slide-up bar on the schedule you set.
Plus, because it's built for WordPress, you know it's going to be super easy to use, including...
One-click installation right from the dashboard.
Comprehensive settings page with an intuitive interface.
Familiar WordPress post editing screen including all your favorite WYSIWYG buttons.
Full integration with WordPress' media uploader so you don't have to hassle with FTP for images.
Easy email integration lets you know instantly if your autoresponder code is working properly.
And perhaps best of all, there's no complicated software to learn, no high overhead to bog down your site, and no huge licensing fee.
You get all of this for the low price of just $XX.
That's it. Buy it once and it's yours forever. You can have the SlideUp Bar installed and working to increase your opt-ins and drive more sales in just minutes.
Of course, I know how hard you work for your money, and that means it has to work just as hard for you. So I'm offering you my...
If you don't find that SlideUp Bar does everything I promised, simply send me an email within 30 days, and I'll cheerfully refund your entire purchase price. I'm so confident that this plugin will let you create better opt-ins and advertisements in less time, that I'm willing to take all the risk.
Ready to add this powerful, flexible, and useful plugin to your site and start improving your opt-in and sales rates? Click to download your copy now.


And Get Developer License As Bonus
Get Instant Access Now

Yes! Sign me up! The SlideUp Bar is exactly what I've been looking for. I know that its placement and flexibility will help me get more sign ups and make more sales.

I understand I'll get:

The easy-to-install WordPress plugin in one single zip package, ready to upload to my site.
A fully customizable SlideUp Bar that allows me to create 3 different styles of advertisements to suit the needs of my site.
Total control over how, when, and where visitors see my slide-up bar.

There's nothing like this on the market today - grab your copy now, and start creating the slide-up bars your site needs!

Only $ 7.00
Developer License Included!
P.S. Stop leaving money on the table. Grab your copy of SlideUp Bar and start converting visitors into subscribers, and subscribers into buyers. It's easy! Download your copy and get started today.
P.P.S. Don't forget, SlideUp Bar is backed by my 100% money-back guarantee, so there's absolutely no risk to you.