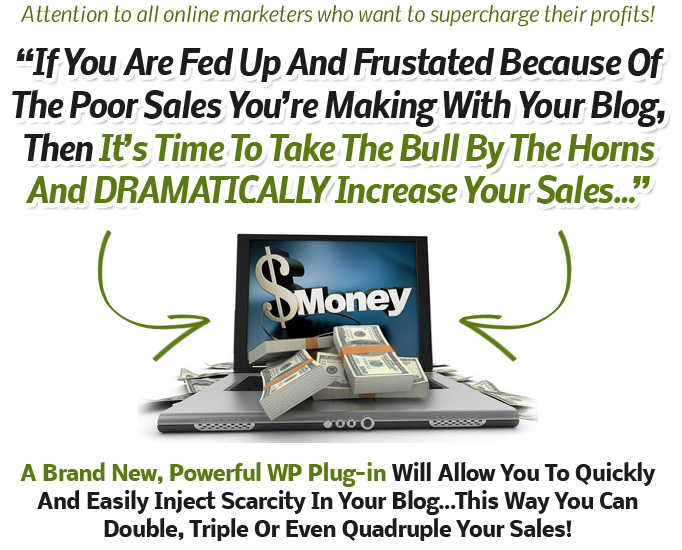 From: Ken Sar
Subject: Don't you think it's time to pump up your scarce sales?
Dear Friend,
The main problem most online sellers are experiencing is a lack of sales through their blogs or websites.
Sure, most of the "marketing gurus" preach that getting a flood of sales and orders is really easy if you know how.
Well, if you "know how" sure it is, but let me ask you a question…
What if you WANT sales but DON'T know how to achieve them?
Chances are that you're going to end up utterly fed up and frustrated…because truth is, there's nothing more sad than having a wonderful product that doesn't sell.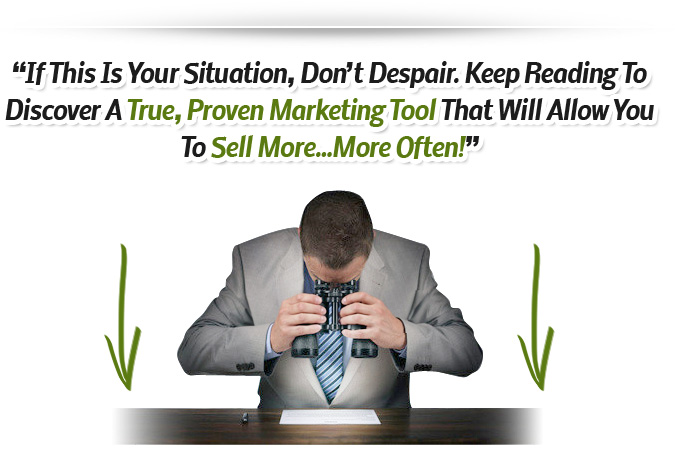 Perhaps you already know this...
Maybe you're not able to effectively market your products or services because you don't take advantage of an incredible marketing technique that works like a charm…
And that is, scarcity.
Yes that's right – You don't have to be a genius in order to realize that most of the successful sellers (I'm talking about those whose launches reach the million dollar mark) ALWAYS use scarcity in their sales material.
And you know what?
If they make millions with this it's because something it's definitely working, right?
Now, I want to make something clear…
NOT all scarcity techniques work the same. It takes the right one to create a positive impact on your online business.
Fortunately for you, I have something here that's going to help you sell much more…I'm talking about DOUBLING, TRIPLING or even QUADRUPLING your sales.
Over the past months, my team of Wordpress geniuses and I were brainstorming a simple way to boost our profits and start making the kind of sales we want.

We already had a few blogs selling products in different niches, but unfortunately many of them weren't generating revenue. That's why we decided to see what we could come up with…
After months of hard work we created a fantastic and profit-inducing WP plug-in that injects scarcity in our blog, and after trying it out for a few weeks the results were nothing short of amazing!
After a long debate, we decided to finally share this out-of-the-box plug-in with the whole world…and if you're reading this, then you too have the chance to finally increase those flawed sales!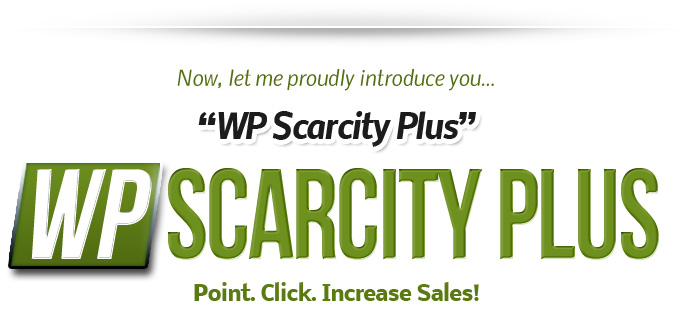 "WP Scarcity Plus" is the definitive WP plug-in that will allow you to grow and expand your business, while helping you sell more. It doesn't matter what you're selling (e-books, courses, services…etc), with "WP Scarcity Plus" you can create smart countdown timers that create urgency. This urgency will boost your sales through the stratosphere!
| | |
| --- | --- |
| | With just a few clicks of your mouse you can automate "evergreen" special offers and one-time offers! |
| | |
| --- | --- |
| | You can overlay eye-catching and impressive header and footer banners over your content while you scroll the page, anchoring your deadline right in front of your customer's eyes – this will literally "force" them to buy your products or services. |
| | |
| --- | --- |
| | You can easily add the countdown timers on any page of your blog. This way you will dramatically increase the chances of converting more visitors into paid customers, thanks to injected scarcity. |
| | |
| --- | --- |
| | Add a useful floating widget that also will be very visible to your visitors. This will impel them to take action immediately or else they will miss the chance to grab your products! |
| | |
| --- | --- |
| | When the timer reaches zero, you have the option to configure the WP plug-in to automatically hide your offer (special order link or any content you want) and replace it with any content you specify (like "This offer has expired"), OR redirects the visitor to any URL you want. |
| | |
| --- | --- |
| | Total freedom to customize you scarcity banners the way YOU want and create effective scarcity messages. The WP plug-in comes with default scarcity messages such as "BETTER HURRY" or "THIS OFFER HAS NOW EXPIRED" – you can quickly and easily change these! |
| | |
| --- | --- |
| | Plus, much more! |

Click Here To See Demo... Scarcity on post - with banner on top center

Click Here To See Demo... Scarcity on page, with floating timer, on bottom right

Click Here To See Demo... Scarcity on post, with # of Visit, on bottom left

With Developer License For Just $9.97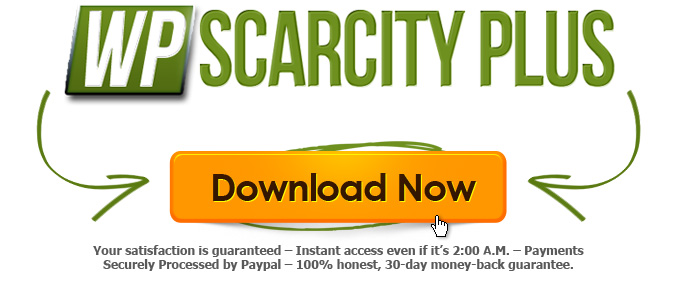 You can't afford to lose even one more sale.

I'm offering you a wonderful and life-saving tool that cost me thousands upon thousands of dollars to develop – and you're getting it for a mere $9.97.

And remember that you're 100% protected by my 30-day money-back guarantee policy.

Simply put, I want your sales to skyrocket and if my WP plug-in doesn't accomplish that, then I will promptly and courteously refund all your money until the last penny.
It's time to take action because if you don't, you will remain stuck and won't increase your sales the way you'd like to.

Go ahead and secure your personal copy of "WP Scarcity Plus" RIGHT NOW by CLICKING HERE.

I promise you that you're going to love the plug-in and it will help you in your marketing efforts!
Thanks for reading…
Best Regards,
Ken Sar
Terms Of Use | Privacy Policy | Earning Disclaimer | DMCA | FTC Compliance | Anti Spam Policy | Copy Right Notice | Social Media Disclosure | Contact Us