Works for Any Wordpress Theme!

Super Simple Setup with Support Guides

Optimized for Mobile Smart Phones

Capitalize on Fast Growing Mobile Market

Redirect Your Users To Optimized Page!
Watch Quick Video to See How Easy It Is!
Control All Content & Design Through Plugin for Mobile Phones
Watch this quick video to see how easy it is to setup any of the mobile wordpress templates on any blog in only seconds!
Mobile Market is Huge!
The mobile market has been growing by an estimated 30% every year in the past 3 years, this trend is only growing. With billion of new mobile users browsing the web it is now becoming essential to market effectively for mobile phones.
There is no need to create a new mobile page for your blogs, because the all-new WP Mobile Plugin will automatically display the optimized page.
About Mobile Plugin
The all-new mobile plugin lets you effective display your blog and marketing message for all mobile phone users. This allows for your visitors on mobile phones view an optimized page displaying your blog and customized content in easier to navigate page.
Keep your existing theme and blog! The plugin only displays for smart phones, not PC web browsers!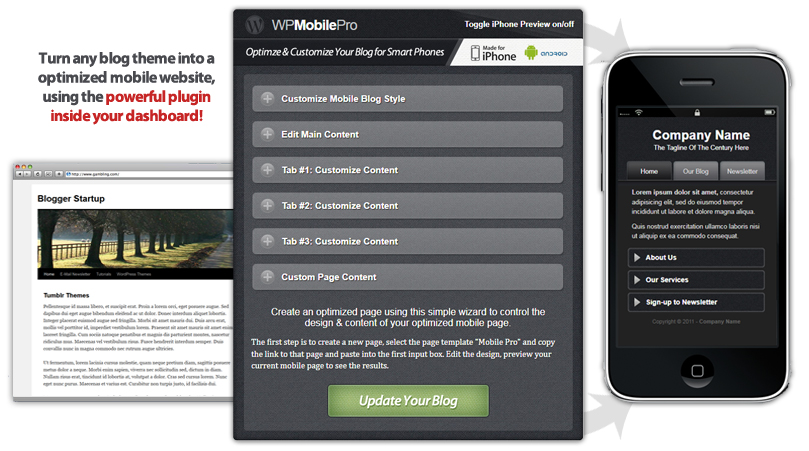 All-In-One WP Plugin with Full Customization!
* AND Keep Your Existing Theme for PC/Mac Users!
The Mobile WP Plugin gives you full control over the design, customize the background with 12 different styles, change navigation links, and even the tabbed content links. View some of the combinations created below:
Remember it keeps your existing theme and blog! The plugin only displays for smart phones, not PC web browsers!
Super Fast Install
Just copy and paste the files into your FTP and use wordpress to set everything up. It is super easy, just like any other wordpress plugin you have used in the past.
Follow the included How to Ebook Guide and you can learn how to everythin up and make all the changes you want with your mobile page.
Fully Customizable
Using the plugin tab you will find you can choose full graphic changes, and even add your content for each tab, main area and even a full unique page, which is the third link at the top.
Save your changes and click "preview" to view inside of iphone browser to see how your blog looks in mobile phone web browsers.
Let WP Mobile Plugin Optimize Your Blog for Todays Growing Mobile Smart Phone Users
Fully Edit the Content to Display Your Content and Blog Posts
Optimizing your blog for mobile users is the best way to get your users new content and display targetted content to sign up to newsletters or redirect to affiliate links or own products.
Using Wordpress CMS
Manage all your content inside your wordpress dashboard so everything is easily accessible to make changes on the fly.
Easy To Use Content WYIWYG Editor
Each content area usings a rich text editor so you can add full HTML, and format your text content to your liking on all areas.
Simple Drag & Drop Install No Messy Databases
Everything works with wordpress! Using your existing blog to run the plugin, while not affecting your current theme.
Hack Proof Back-End Bruteforce Protection
Your mobile websites are safe with the protection of advanced wordpress encryption, so that you cannot be hacked.
Works On All Mobile Devices Beautifully!
Instantly have a mobile site for your normal site that works amazingly well on all modern mobile phones like the iPhone, Andriod, and Windows Mobile!
Stunning Slide, Hide, and Show Animations!
Using a style targetted for mobile users, the animations act like iPhone apps so that your blog is optimized for the mobile phone.
Lead Capture Form - Management & Design
Create a lead capture form for your mobile site where you can collect leads from phones! Just add your autoresponder code to content area!
Create Stunning Mobile Pages In 2 Clicks
Setup your plugin and customize your mobile page and then you are ready to go, without affecting your current theme.
Use the Power of Wordpress
Transform your existing blog traffic and optimize for the growing mobile market to increase your leads, buyers and readers.
Super Simple Design Customization
No need for complex photo editing software, just choose the styles you want to use, and your ready to go and see your changes live!
Social Footer - Connect Your Social Sites
Add your links for Twitter and even Facebook Like button to increase the social network traffic you will get for your blog.
Order Plugin Now
Grab and setup your mobile optimized blog plugin right now for an limited time low price. Get instant access right away!
Order Your Copy Now for Only $9.97
Now Include Developer License.
You can use this plugin on all of your sites and your client sites.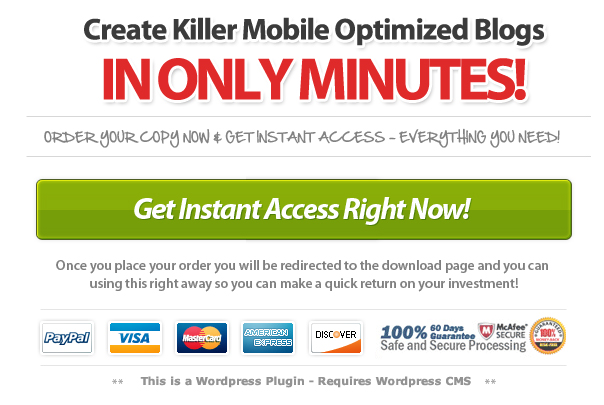 Download everything immediately with "How to" Ebook to setup your plugin in only a few clicks. The best part is you can manage all of the content inside your wordpress dashboard without changing your current wordpress theme.
Keep your existing theme and blog! Get instant download access right away!
Best Wishes,
Ken Sar
Disclaimer | Terms | Privacy | Contact