If you use Wordpress and don't secure your site you will get hacked at some point, without a doubt. I don't know anyone who has been in this biz for a long time that hasn't had their Wordpress site hacked at some point.
You need Wordpress Lockdown -- a comprehensive guide to show you how you can significantly improve the security of your wordpress empire and make your site so troublesome for hackers that they will MOVE ON to target someone elses site.

Introducing: Wordpress Lockdown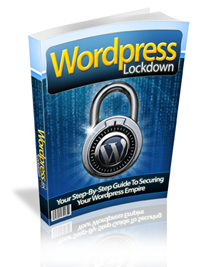 The only guide of its kind that teaches you, step-by-step, how to secure your Wordpress 3.x Empire from hackers and how to recover from web diasters.
It is the most thorough and in-depth guide on Wordpress security

Inside you'll discover
| | |
| --- | --- |
| | Why you need to secure your blog. |
| | How to secure your own computer and how that contributes to your blog's security. |
| | What makes an appropriate web host. |
| | The secure way to install a WordPress blog. |
| | How to securely update a live blog. |
| | What information you need to keep private. |
| | How to secure your MySQL database. |
| | Common sense security measures people take for granted. |
| | How to back up your security efforts. |
| | Ways to prevent your blog from comment spam. |
| | What to do when you've been hacked. |
| | Resources for additional help. |
This complete 99 page guide - Wordpress Lockdown - which includes over 75 full color screenshots, and is packed with tips, tricks, and step-by-step tutorials will take you from a regular wordpress blogger to one that understands the attack surface of their site and locked all the doors into thier empire TIGHT.

Wordpress Lockdown targets Wordpress 3.x specifically, however the general principles and practices are applicable to all versions of Wordpress. Besides, as you will learn from this book, why the heck would you be running an older version of Wordpress anyway?



Packed with critical security information and strategies, this guide provides you with the information you need to secure your blog and keep it secured.
It contains a no-bones-about-it approach to securing a
WordPress
blog with specific tools and some damn good reasons for using them.
Wordpress Lockdown is for those who already know blogging basics, but want to make their blog(s) a secure and spam free Internet phenomenon.
It is true that this guide does not cover every conceivable aspect of
Wordpress
security nor does it cover everything there is to know about cyber security in general - in order to cover this subject in depth I would need many millions of pages indeed!
This guide does, however, pick out those security principles and practices related to the
Wordpress
platform that provide the best bang for the buck, or the best security and piece of mind for your blogging empire for the least application of effort and time, and explain them in a direct and no-nonsense way so that they can be applied most readily. The techniques discussed in this guide are tried and true, used by countless professionals around the planet to improve the security of their
Wordpress
sites.
How much would it cost to have your blog(s) secure from hackers?
If you apply the techniques inside Wordpress Lockdown, knowing that your blog(s) are safe from potential hackers, would you sleep easier at night?
After you get your hands on it, you will realize how vulnerable your blogs are. And You will surely agree that Wordpress Lockdown is worth a full potential $97 without a doubt.
But in the effort of wanting as many bloggers get the hands on this guide as possible, I am willing to go extra mile and decide to sell it for just $47.
Wait...
First 50 Customers Special!
Be One Of The First 50 Customers, And You Only Pay $17.00!
Click On The Button Below To Buy Now!
Currently, There Are Only 15 Left At $17.00
Ken Sar
Just Imagine What It Would Cost You In Time And Money Trying To Get Your Blog(s) Back From Hackers! Don't Wait Till It Happen And Get Frustrated. Secure Your Blog(s) Now! Do It Today!

CLICK ON THE ORDER BUTTON ABOVE TO GRAB YOUR COPY
BEFORE HACKERS GET TO YOUR BLOG(S)
Disclaimer | Terms | Privacy | Contact
COPYRIGHT 2011, Ken Sar
No part of this website can be copied or duplicated.