Attention: Those Who Want to Do MORE with Wordpress...
Do You Use Wordpress?
Do You Want Wordpress To Become
A Traffic magnet for Your Readers?
You're on the right place. ;)
Dear Wordpress User,

You've been using Wordpress for a while now and while it's a simple tool with plenty of applications for websites, blogs, and other uses, you've wondered if you could make things even easier for your readers

And now, you can.

With the WP Instant Dashboards plugin, you'll find that being able to add a visual dashboard to posts and pages can make you stand out. Like this one: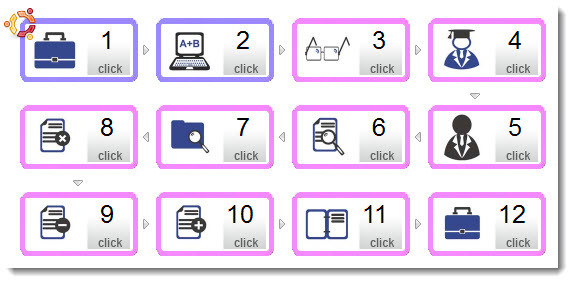 Have your readers been asking for more help in posts? Do you want a plugin that helps you create dashboards and even educate your readers through your step by step VISUAL instructions?
You CAN get what you want from WP Instant Dashboards - and you can do it the way that makes sense to you.
Why creating a visual Dashboard?
Wordpress is already a simple tool to use, so how can WP Instant Dashboards make it even better? With WP Instant Dashboards, you get a plugin that allows the creation of separate autonomous instructional visual dashboards that can be added to a post or a page in your blog.

The WP Instant Dashboards will give:
And you can create as many dashboards as you like, helping you creating a flow chart for your blog readers. For example, if you want to instruct a reader on how to use a program you sell, all you need to do is to set up this dashboard and they will just click on the step that applies to them.

As you ease a user through the process, they're more likely spend money on a program and to have more confidence in what you are sharing or selling to the audience.

All because of a UNIQUE plugin that takes only seconds to install and use.
Using the plugin is a piece of cake! Watch the video and see it yourself:
Awesome - right?
You can't wait another moment to have a better Wordpress experience with WP Instant Dashboards.

Today could be the day that you can set yourself apart from everyone else - with customized dashboards in your Wordpress site.
What Does Dashboard Customization Cost Me?
But you might be a smaller business and the WP Instant Dashboards might sound like it's too much for you to buy.
You need to pinch pennies, after all.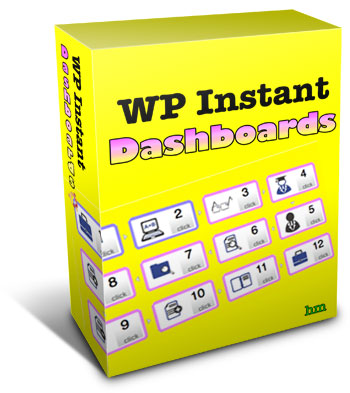 FOR A LIMITED TIME ONLY…..

"WP Instant Dashboards"

IS AVAILABLE HERE EXCLUSIVELY FOR ONLY
$97
$67
$47
This price is less than what you probably spent a dinner in a week, and when you think about the time and energy you're saving because of WP Instant Dashboards, the price is a steal.
"No-Questions-Asked
Money Back Guarantee!"

Get the plugin right now (just click the button below) and start using it. If you're not thrilled ask for your money back. You have 30 days to decide. If it doesn't help you to create your own visual dashboards in seconds or if at any time in thirty days you decide this was not what you needed then ask and ye' shall receive a full refund of your purchase price. No questions asked at all.
You get:
The ability to add a dashboard to posts and blogs

An instructional video on how to create your dashboards in seconds (the one you watched already)

A set of 50 icons you can use for your educational dashboards

Money back guarantee - 30 days
Ready to Change the Way You Work?
With WP Instant Dashboards, you'll change your blogging style and your writing future.
Let WP Instant Dashboards help you help your readers as well as your self.

In just moments, you can guide the way for your readers, without having to spend hours trying to figure out links and code.

What are you waiting for?
TAKE ADVANTAGE OF THIS SPECIAL OFFER RIGHT NOW!

The special low price for "WP Instant Dashboards" will not last for long.
Take action right now!
Sincerely,
Ken Sar
Copyright(c)2011-Present. All Rights Reserved.
Disclaimer | Terms | Privacy | Contact
EARNINGS DISCLAIMER: EVERY EFFORT HAS BEEN MADE TO ACCURATELY REPRESENT THIS PRODUCT AND ITS POTENTIAL. THERE IS NO GUARANTEE THAT YOU WILL EARN ANY MONEY USING THE TECHNIQUES AND IDEAS PROVIDED WITH THIS WEBSITE. EXAMPLES IN THIS PAGE ARE NOT TO BE INTERPRETED AS A PROMISE OR GUARANTEE OF EARNINGS. EARNING POTENTIAL IS ENTIRELY DEPENDENT ON THE PERSON USING THE INFORMATION INCLUDED TO THIS PAGE, THE IDEAS AND THE TECHNIQUES. WE DO NOT PURPORT THIS AS A GET RICH SCHEME. YOUR LEVEL OF SUCCESS IN ATTAINING THE RESULTS CLAIMED IN THIS PAGE DEPENDS ON THE TIME YOU DEVOTE TO THE IDEAS AND TECHNIQUES MENTIONED, YOUR FINANCES, KNOWLEDGE AND VARIOUS SKILLS. SINCE THESE FACTORS DIFFER ACCORDING TO INDIVIDUALS, WE CANNOT GUARANTEE YOUR SUCCESS OR INCOME LEVEL. NOR ARE WE RESPONSIBLE FOR ANY OF YOUR ACTIONS. MATERIALS IN THIS PAGE MAY CONTAIN INFORMATION THAT INCLUDES FORWARD-LOOKING STATEMENTS THAT GIVE OUR EXPECTATIONS OR FORECASTS OF FUTURE EVENTS. YOU CAN IDENTIFY THESE STATEMENTS BY THE FACT THAT THEY DO NOT RELATE STRICTLY TO HISTORICAL OR CURRENT FACTS. THEY USE WORDS SUCH AS ANTICIPATE, ESTIMATE, EXPECT, PROJECT, INTEND, PLAN, BELIEVE, AND OTHER WORDS AND TERMS OF SIMILAR MEANING IN CONNECTION WITH A DESCRIPTION OF POTENTIAL EARNINGS OR FINANCIAL PERFORMANCE. ANY AND ALL FORWARD LOOKING STATEMENTS HERE OR ON ANY OF OUR SALES MATERIAL ARE INTENDED TO EXPRESS OUR OPINION OF EARNINGS POTENTIAL. MANY FACTORS WILL BE IMPORTANT IN DETERMINING YOUR ACTUAL RESULTS AND NO GUARANTEES ARE MADE THAT YOU WILL ACHIEVE RESULTS SIMILAR TO OURS OR ANYBODY ELSE'S, IN FACT NO GUARANTEES ARE MADE THAT YOU WILL ACHIEVE ANY RESULTS FROM OUR IDEAS AND TECHNIQUES IN OUR MATERIAL.

Software Disclaimer: The software is distributed 'as is' and with no warranties of any kind, whether express or implied, including and without limitation, any warranty of merchantability or fitness for a particular purpose. The user (you) must assume the entire risk of using the software. In no event shall any individual, company or organization involved in any way in the development, sale or distribution of this software be liable for any damages whatsoever relating to the use, misuse, or inability to use this software (including, without limitation, damages for loss of profits, business interruption, loss of information, or any other loss).'