Wordpress Maniac Firesale V1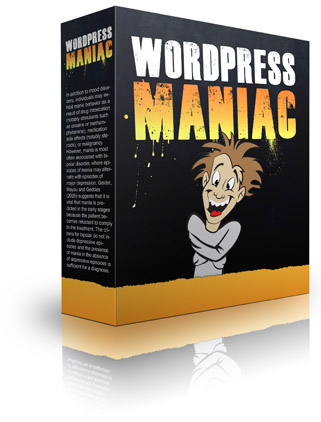 "Search high and low, but you wont find another Wordpress collection with the value we have here...Many of these products sell individually at a price that you can get this ENTIRE collection for when you order today!"





HYPE FREE SALES LETTER - SEE THE VALUE
ORDER BELOW

Now On To The Products...

NOTE: In fairness to our customers and affiliates, we aren't linking the products listed to their actual sales pages. We think it will be evident to you the extreme deal we're offering you here, but feel free to Google any/all products that you want more detailed information on. Just come back here to get EVERYTHING for one super low price!


Product #1 - Instant Blog Feeder Software
Schedule Your Articles To Be Posted In The Future On Your Blog With
This Handy Desktop Software. Point and Click Easy.
Actual Selling Price If Purchased Separately: $27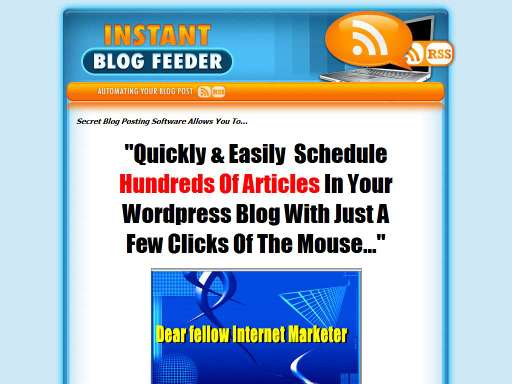 Personal Use Rights


---
Here's 9 Reasons Why You Should Use IBF For ALL Of Your Wordpress Blogs:

Queue up your all your blog posts at once for months and even years to come so that you never have to worry about updating your blogs again.

The scheduling feature allows your blog to grow on complete autopilot even when you are on vacation.

Randomize your time posting schedules so that it will look as if it's completely human based and the growth will appear natural for the search engines.

Automatically insert relevant Technorati tags for each post so that you can benefit from extra backlinks and rank higher in search engines.


Automatically upload articles in

correct categories

so that your blogs have a tight related theme which will further increase your rankings.



Password protection so that ONLY you will have access to the blog postings.

Automatically create headlines in each blog post according to file names or the first line of your article. This feature offers you a complete control on each posting you make.

NEW!Post unlimited PAGES in your wordpress blog and schedule them all in just a few clicks!

NEW! Automatically add custom wordpress tags for all your posts at once so that you'll never have to do it manually.

And much much more...



Product #2 - Wordpress SEO Secrets Revealed Video Course
This video set will take you by the hand and show you step-by-step everything
you need to know about optimizing your Wordpress blog for the search
engines so that you can start getting FREE traffic.
Actual Selling Price If Purchased Separately: $27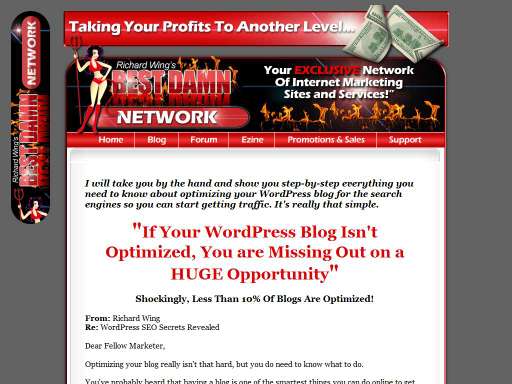 Personal Use Rights


This Video Series Features:
A Collection of 40 Professionally Recorded Videos, 2 Hours of Content - This complete video series will teach you everything you need to know about optimizing your WordPress blog for the search engines.
The Importance of SEO - Before you start applying SEO to your WordPress blog, you need to understand why it is so important.
The Power of Keyword Research - If you aren't creating posts that are focused on specific keywords, you are literally taking a stab in the dark at achieving natural search engine rankings. Follow along as I explain keyword research in detail, and perform a real live case study.
What Free Plugins You Absolutely Need to Make Optimization a Cakewalk - There are a ton of free plugins out there that make SEO a breeze. I will show you the best one's that you'll need, and how they operate.
How to Create an "Optimized Post" - I will take you step-by-step through creating an optimized post from the ground up.
How to Create a Google Optimized Sitemap - I will show you how to setup a Google-friendly sitemap that will update on its own.
How to Setup an Effective Navigation Structure - Learn how to structure your blog to make it easy for the search engines to understand exactly what you are offering.
How to Encourage Visitor Interaction - Engaging your blog audience is very important. I will show you (along with the help of some excellent plugins) how to do this effectively.
How to Harness the Power of Social Networks - Social networks are becoming increasingly important. Learn how to use them to propel your blog to new heights.
How to Track Your Blog Statistics - I will walk you through installing Google Analytics, and talk about how to understand it.
How to Generate Powerful Backlinks to your Blog - I will share seven powerful ways to get high quality backlinks to your blog.
Plus Much, Much More -


Product #3 - Instant Blogging Content - One Year Membership
You'll get enough content to enter and dominate 10 new niches every single
month for the rest of your life. You also get all the blog comment posts that you
need to create effortless copy and paste back links as well! This is hot, pro written
content that you can easily put to use any time you see fit.
Actual Selling Price If Purchased Separately: $88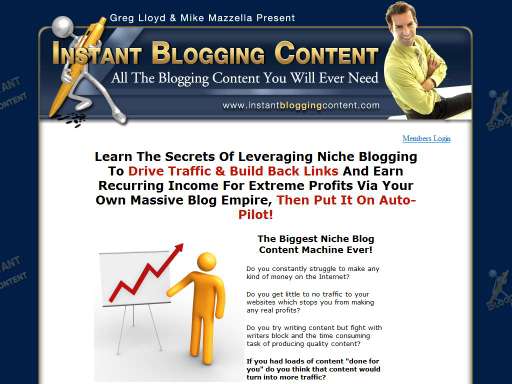 Personal Use Rights


So What Exactly Do I Get With My New Membership Each Month?
250 Ready To Post Blog Articles - Each month you are going to get 250 ready to go pieces of blog content that you can post on your blog! You're going to get blog length content that's proven to be eaten up by both search engines and web site visitors.


10 Niches Every Month - Your 250 monthly articles will be broken up into 10 niches which means you get 25 "done for you" blog posts for each of the 10 new niches every month! That means you can enter 10 different niches every month or one new niche every three days!


Blog Comments Ready To Go - You also get 10 complete blog comments for each of your niches totaling 100 blog comments every month. These are ready for you to grab and post in related blogs for instant back links.


The Blog Comment Doubler Guide - You also get a simple to understand and easy to use guide that will teach you how to change up the 100 blog comments we provide so you can use them again and again turning the 100 blog comments we write for you into 1000 or more comments if you wish!



100% Professional Writer Certified Content - The blog content and the comments are all written by professional writers who write for a living and are masters in the English language. This content is hot and will make your visitors and the search engines love your website.


Monthly Delivery For Life - You won't just be getting 250 articles once. You are going to be getting 250 articles and 100 blog comments spread across 10 different niches for the LIFE of your Blogger membership!


Blog & Profit Analyzed Niches - Each of the niches that you will be receiving content in each month has been analyzed for potential profitability as well as potential for traffic generation via a blog. This means you can be sure that your content is ready to help you become an effective blog marketer!


Product #4 - Wordpress Money Making And Optimization Video Course
Step By Step Videos Show You How To Use Wordpress to Maximize Your Earnings
And Rapidly Create Profit Pulling Site After Profit Pulling Site. The Sky Is The Limit!
Actual Selling Price If Purchased Separately: $27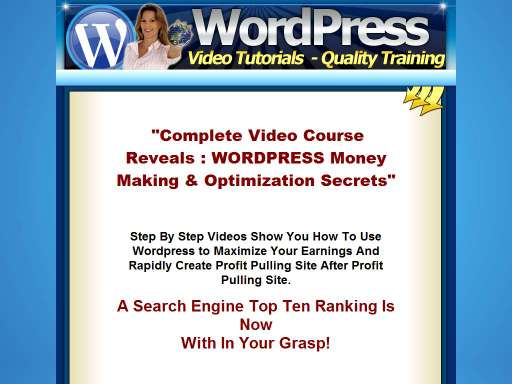 Personal Use Rights

Well blogging is...
| | |
| --- | --- |
| | One of the best ways to monetize your business. |
| | Great for building your list with targeted leeds. |
| | The easiest way to get very good ranking in the search engines. |
| | A great way to create profit pulling websites from amembership site to an authority site, Adsense site or a review blog |
Now you know some reasons why you must blog....
The question is ...How Do I Blog Correctly For Success?

These videos will show you everything you need to know!


Product #5 - Digital Product Demon Wordpress Plugin
Digital Product Demon is a simple, easy to use plugin that does exactly what most
Wordpress site owners want when selling digital products from their Wordpress website.
Actual Selling Price If Purchased Separately: $17



Personal Use Rights


Digital Product Demon coupled with WordPress will let you:
| | |
| --- | --- |
| | Easily sell digital products with just a PayPal account - PayPal is easy to use, but it doesn't provide a way to hide your ThankYou page or protect your download links. Digital Product Demon makes it easy to do both. It'll hide your Thank You page so that only valid customers can access it and it will expire your download page and encrypt your download URLs so that your links can't be shared or posted on "pirating" forums. |
| | |
| | Support multiple products in a single ClickBank Account - Digital Product Demon lets you use separate sales, thank you, and download pages for each product you define. That means that you can place multiple products in 1 ClickBank account but still display individually crafted sales pages for each product. |
| | |
| | Automatically cloak your affiliate links - The benefits of cloaking affiliate links have been discussed frequently on this forum and elsewhere. Digital Product Demon's AFFILIATE mode handles this for you automagically! |
| | |
| | Protects your Download Pages - Download pages can only be accessed through a link that includes the buyer's purchase information. These pages are also set to expire after a period you specify - usually 3-5 days after the purchase. |
| | |
| | Protects your Download Links - create ugly, cryptic, expiring links that can't be easily shared or posted on freebie forums |
| | |
| | Hide your digital product's actual URL - anyone who sees your download link won't have a clue about what your download filename is. Everything's all screwed up with numbers, letters, and special characters that don't mean a thing to anyone but Digital Product Demon Plugin . |
| | |
| | Automatically generate PayPal, ClickBank, and EJunkie payment buttons - saving you tons of time fighting PayPal's button factory or customizing your own ClickBank buttons. |


Product #6 - WPFooter Wordpress Plugin
This Handy Wordpress Plugin Allows You To Add 'One More Thing' To the End of
EVERY Post Made On Your Wordpress Blog, On Complete Autopilot.
Actual Selling Price If Purchased Separately: $9.97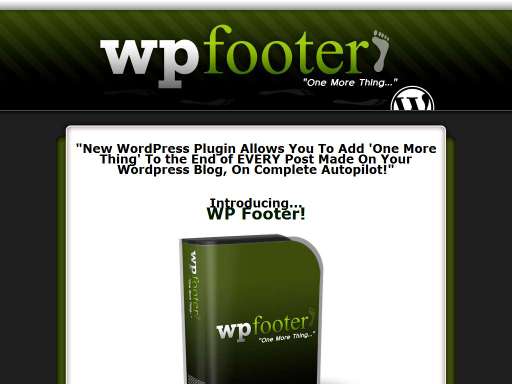 Personal Use Rights


This plugin allows you to add anything you wish to the end of every blog post you make, and is fully customizable.

* Add an opt-in form!


* Add comment reward notifications! (if using WP Incentive):


* Add your RSS feed subscription link!


* Add your picture to make it personal!


* Add banner ads!


* Add an IFRAME to pull in contents of another webpage!


* Add it all!


Product #7 - WpIncentive Wordpress Plugin
This plugin will allow you to give your site visitors AUTOMATIC digital rewards
for posting comments on your Wordpress blog.
Actual Selling Price If Purchased Separately: $9.97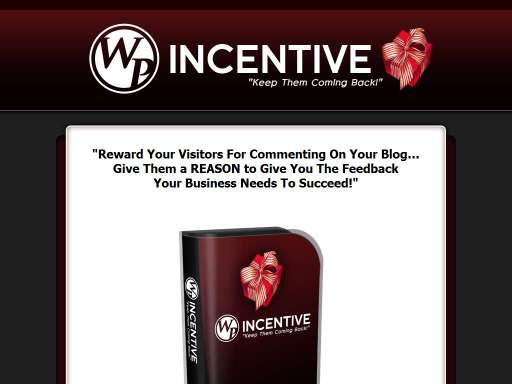 Personal Use Rights


Your visitors will get a reward gift when they make several comments on your blog over time.

(You can set the required comment reward numbers to ANY intervals you choose - like 1 post, 5 posts, 20 posts...etc!)

You can even use your OWN gifts as the rewards instead of the ones we provide, you have FULL CONTROL!


Product #8 - Rogue Clickbank Profits Plugin + Private Label Rights
This Wordpress Plugin Will Practically FORCE Visitors To Buy Through YOUR Clickbank Affiliate
Link. The perfect plugin to use on Google "Sniper" sites or Clickbank product review blogs.
It's no secret...Google loves Wordpress!
Actual Selling Price If Purchased Separately: $10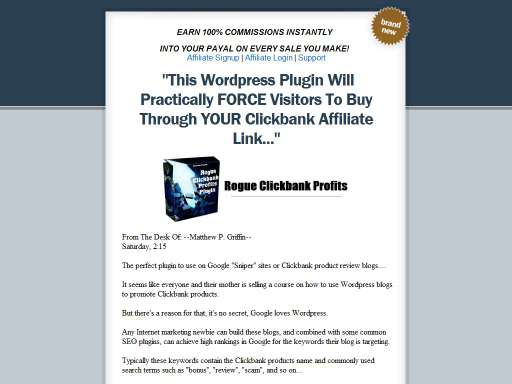 Private Label Rights



Product #9 - WpHistory Wordpress Plugin + Resale Rights
This plugin will post a random "this day in history" fact at the end of your blog posts.
Keep your readers coming back with these short entertaining tidbits...
Actual Selling Price If Purchased Separately: $27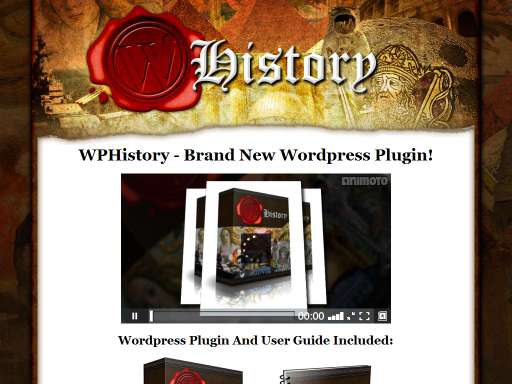 Resale Rights


Example Posts Made By WPHistory:




Product #10 - Instant Indexer Software + Master Resale Rights
This Windows desktop software allows you to get your blogs and websites indexed
by Google and the other major search engines within minutes of using it.
Actual Selling Price If Purchased Separately: $19.97



Giveaway/Master Resale Rights



Your Giveaway/Master Resale Rights:
You CAN do anything you wish with this product! You can sell it, sell rights, or give it away. You can add to any membership site...etc.


Product #11- WpJoke Wordpress Plugin + Private Label Rights
WPJoke is a Wordpress plugin that pulls in jokes from our "Clean Humor"
database, and adds them to the end of every blog post you make.
Actual Selling Price If Purchased Separately: $67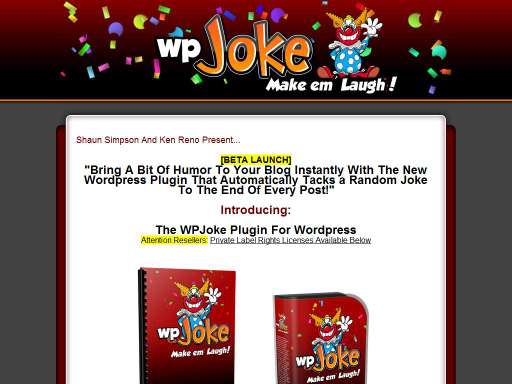 Private Label Rights


How WPJoke Works:

Jokes are displayed in a borderless iframe on a white background. They are dynamically driven, and randomly chosen.

EXAMPLE:




SIDE NOTE: If you own other plugins that add content to the footer of your blog posts such as WPFooter - don't worry! You can specify which order to display your footer plugin content - you have full control.


You'll Get All Of This With Your Private Label Rights Package For WPJoke:

1. The WPJoke Plugin
2. Full Sourcecode Rights to WPJoke
3. Graphics AND PSD's for WPJoke
4. Full Joke Database of Over 2,000 Jokes
5. Full Joke Rotation Script And Sourcecode (simple to use)
6. Full Private Label Rights to WPJoke to make any changes you wish



Product #12 - WpQuote Wordpress Plugin + Private Label Rights
This plugin will add a famous quote to the end of every blog post you make.
Actual Selling Price If Purchased Separately: $47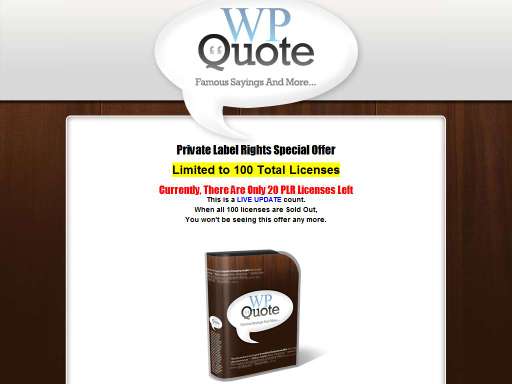 Private Label Rights


You get full Private Label Rights, Graphics, Salespage, and User Manual!


Product #13 - Wordpress Crusher Video Series + Plugin Templates
Your Days Of Writing Wordpress Plugins From Scratch, Overpaying Freelancers To Write Plugins
For You, And Digging Through Countless Pages Of Useless Documentation - Are Over.
Actual Selling Price If Purchased Separately: $47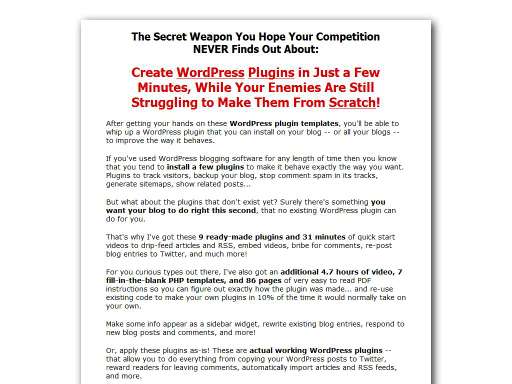 Personal Use Rights


Become an Expert on WordPress Plugin Creation in a Few Short Hours...
Get the Basics in Just a Few Minutes!
If you are a programmer or someone who dabbles in programming, this is a unique opportunity to tweak the plugins or crank out your own plugins. To my knowledge, no one has ever offered a deal like this... not just the plugins themselves, but the templates used to make the plugins, videos explaining the plugins, and detailed documentation going over every step of the plugin with a fine tooth comb.


Plugins You Get
Plugin Templates You Get
Video Training

Article Drip Feed Importer
Call-to-Action Automator

Basic Plugin Template

45 minutes

Twitter Button

Sidebar Widget Template

28 minutes

RSS Drip Feeder

Custom Fields Template

33 minutes

Video Embedder

[shortcode] Template

30 minutes

Comment Bribe Machine

Custom Database Template

52 minutes

Twitter Reposter
Ten Comment Rule Incentivizer

Post Handling Template

53 minutes

Post Statistics Display

Post Meta Values Template

41 minutes

Total Training
4.7 Hours

Any of these plugins on their own would be worth $37 or $67

HINT: Several of the plugins you see on this page were derived from this training and templates. Now YOU can create your own plugins too!


Product #14 - Commissions Automator Wordpress Plugin
This plugin automatically makes a post on your blog FOR YOU, every single time a new instant commission product is released. Every post has YOUR affiliate link, and when your visitors click
and buy, you'll earn instant payments, directly to your PayPal Account.
Actual Selling Price If Purchased Separately: $4.97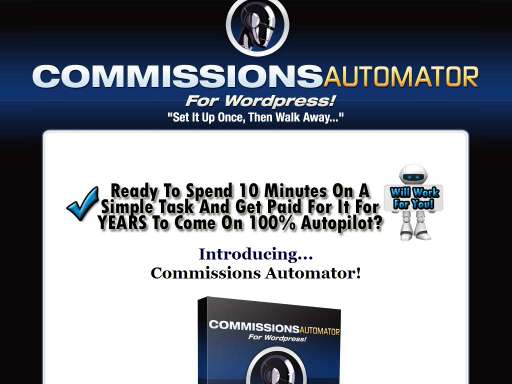 Personal Use Rights

Simply Upload, Activate, and
Never Touch It Again!
"Set It Up Once, Then Walk Away..."

Use Commissions Automator On UNLIMITED Domains...
The instant commission posts are short, to the point, and ALWAYS contain YOUR affiliate link. You can select which feeds your want to promote, and how often you want to post to your blog.



Product #15 - WpMonetizer Wordpress Plugin
WP Monetizer will get the first tag added to the post, and then it will display Amazon™, ClickBank,
and/or eBay advertisements to the post. This allows the reader of the post to see products that are
directly related to the posting that he/she was reading...And BUY THEM.
Actual Selling Price If Purchased Separately: $17.97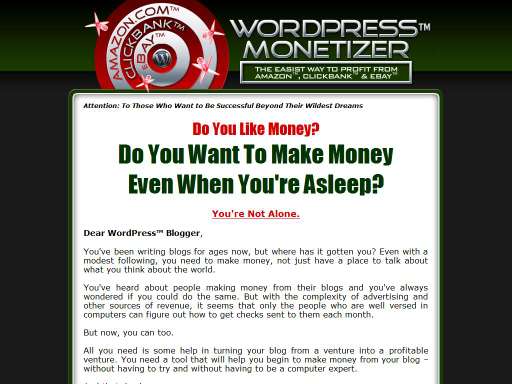 Personal Use Rights


Can This Really Help You Make More Money?
Think about it: When you are reading a blog post or a website, and it's talking about a specific item, you might be interested in buying that item. While this might not be something that you want to buy NOW, you definitely will be more inclined to buy something when it's already on the site waiting for you.

These advertisements work because they're targeting the reader who is already interested in what you may be trying to sell to him/her.

If they weren't interested in the item, then they wouldn't even read the blog posting.

But if they make it to the end of the blog posting, then that's where the WP Monetizer will work its magic.

They're already interested in what you have said... and now you can make money from it as an affiliate too.
Working Together to Make Your Website a Success.
You can't make money on the Internet without a little help.

WP Monetizer is ready to help you.

With a streamlined system and easy installation, all you need to do is to keep writing on your website or blog and then watch as you begin to make money from your advertisements.

The online marketplace isn't just for stores that are set up to sell directly to customers. You can also get people to buy when they're already at your site before they head off to some other retailer to spend their money.

They can spend the money with you.

And WP Monetizer is there to ensure that they will.


Product #16 - One Time Offer Manager Plugin + Master Resale Rights
One-Time Offer Manager makes creating and maintaining your one time offers easy and quick.
There's nothing else on the market quite like this one. Put it to work on YOUR blog today.
Actual Selling Price If Purchased Separately: $10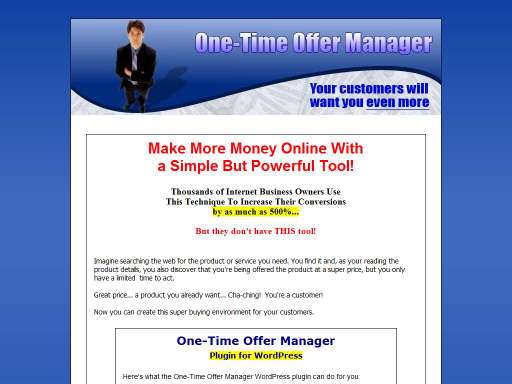 Master Resale Rights

What the One-Time Offer Manager Plugin Can Do For You:

Create time limited special offers for your website visitors.


Add timers to your One-Time Offer pages to heighten the sense of urgency.


Since your customers never see your One-Time Offer after it expires, they will have to buy through your regular offer, further establishing your credibility.


Visitors never see the actual link to your one-time offer page, so they can't bypass the limits you've set.


No ploys, no gimmicks, no scams, no tricks. Your customers will quickly realize that your one-time offers are the real deal and they'll take you up on your next One-Time Offer 'cause nobody likes to miss out!


Tracks user by host address (IP) and cookies! (Visitors can't erase their cookies and get another shot.)


And Much Much More!


Product #17 - MYSTERY PRODUCT!
Actual Selling Price If Purchased Separately: $20
Personal Use Rights
Hint: Think 'Professional Graphics'...



Product #18 - Blogging Profit Formula
I first realized the HUGE potential of blogs a number of years ago. I'm a huge fan - and they're
pretty addictive once you get started (especially when you see REAL results from them). Indeed
there are many ways to use blogs, however I like to think of them as a complete money making
system in their own right...
Actual Selling Price If Purchased Separately: $14.97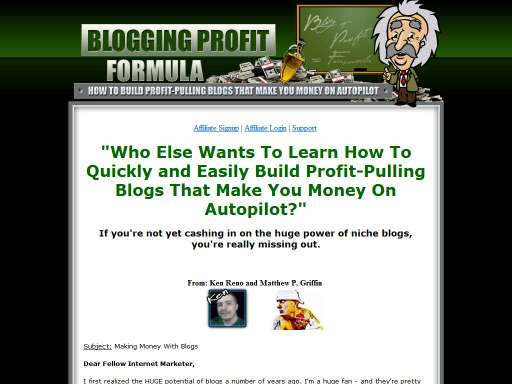 Personal Use Rights


Introducing Blogging Profit Formula:
Inside this content-filled 33-page report you'll discover:
A complete step-by-step formula for building cash-sucking blogs completely from scratch. No stone is left unturned as you start without even an idea and end up with an optimized blog ready and waiting to make you money.

Discover the markets you really need to tap into - cripes, at one point I even tell you which ones!

Learn exactly how to set up and install your blog - no vague descriptions such as 'now go and install Wordpress' - I take you through everything, step-by-step.

The essential tweaks you MUST implement - these are truly the secrets of success.

How to engage with your blog readers and build a relationship with them that is so strong they will visit your blog again and again, ready and waiting to buy things!

How to easily get traffic to your blog. Without traffic it is impossible to succeed.

And much, much more!


Product #19 - Blogging Cash System + Private Label Rights
This video set will take you by the hand and show you step-by-step everything
you need to know about optimizing your WordPress blog for the search
engines so that you can start getting FREE traffic.
Actual Selling Price If Purchased Separately: $17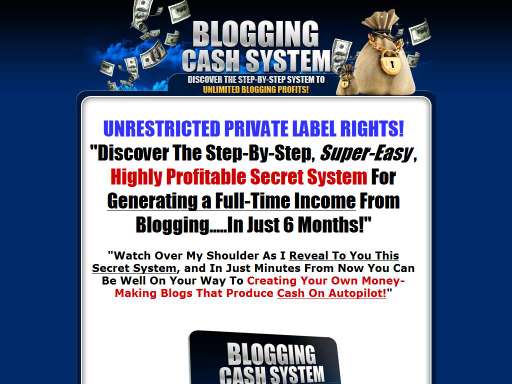 Private Label Rights


A Quick Run Down On The 'Blogging Cash System' Course!



Here is what you'll learn from this guide in detail....




Part 1 - Choosing a Topic

- Niche Research
- Keyword Research


Part 2 - Setting Up Your Blog

- Remote Hosted vs. Self-Hosted Blogs
- Getting a Domain Name and Hosting
- Installing Wordpress
- Optimizing Wordpress



Part 3 - Creating Great Content

- Content Writing Tips
- Using Private Label Rights Content
- Autoblogging
- Adding Video to Your Blog


Part 4 - Monetizing Your Blog

- Adsense
- Affiliate Links
- Your Own Products
- List Building



Part 5 - Traffic Generation Strategies

- Blog Commenting
- Submitting To Directories
- Submitting RSS Feeds and Pinging
- Social Bookmarking
- Article Marketing
- Video Marketing
- Web 2.0 Sites
- Social Media Sites


That's Over 50 Pages of Solid, High Quality Blogging-For-Profit Training!


Product #20 - Affiliate Blogging Video Course + Master Resale Rights
It's true...If you look at the bloggers who really make a killing online from their blogs, they all focus
on just one thing - building highly profitable affiliate marketing blogs with Wordpress.
Actual Selling Price If Purchased Separately: $17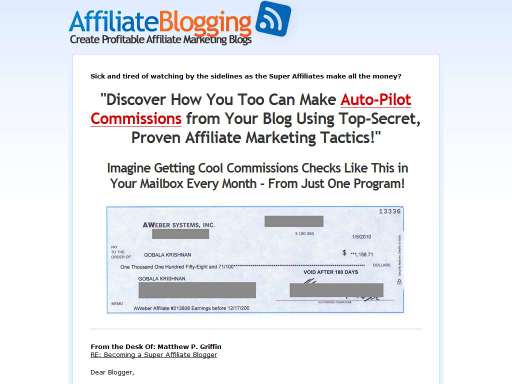 Master Resale Rights

Master Resell Rights Worth $127 Included - Keep 100% Of
All Profits When You Resell This Hot Product!
With our simple yet powerful step-by-step video instructions, you'll discover:






Quick Start Guide to ClickBank

ClickBank is the world's largest digital products marketplace, where you can buy and promote anything from e-books to memberships and even website templates.

In this video we explain everything a beginner needs to understand about how ClickBank works.

How to Create and Use a ClickBank Hoplink

Want to promote ClickBank products and make up to 75% in commissions?

We reveal how easy it is to find profitable products to promote, then how to create your own unique "HopLink" and finally how to insert it into the content of your WordPress blog.

How to Use The ClickBank HopAd Builder

Did you know you can create automatically-updating ClickBank ads - known as "HopAds" - and put them on your website?

In this video we reveal the two different types of HopAds and how to set-up each. We also reveal how to put those ads into your WordPress blog.

Introduction to Commission Junction

Commission Junction or "CJ" is one of the oldest and largest affiliate networks - selling everything from physical products to financial products and Pay-Per-Lead offers.

This video reveals everything you really needs to know about making money from CJ as an affiliate.

Overview of Account and Merchant Offers

In this video, we reveal how your CJ account works and how to navigate your dashboard or affiliate home page in CJ.

We also reveal how merchant offers and incentive programs work, and how to determine profitable products to promote.

Finding and Joining Profitable Merchants

CJ has tens of thousands of merchants, but not all of the are equal.

In this video, we reveal how to sort through the clutter to find proven merchants with high commissions and converting websites to join

Creating Banner and Product Links

Once you've joined a merchant program in CJ, you need to get your affiliate banners, affiliate links and product ads.

This video shows you exactly how to do it, with your own tracking codes that will help you determine where your sales come from.

Using Smartzones to Manage Banners

If you're not using SmartZones in CJ, you're missing out on one of the best tools ever developed for affiliate marketers.

We'll explain how SmartZones work, and how to use them to rotate and track banners on your blog.

How to Cloak and Track Your Affiliate Links

Cloaking your affiliate links is one of the most important things you should do as an affiliate marketer.

In this video we reveal a software you can use to easily cloak your affiliate links, even if you have zero technical knowledge.

Getting Viral Traffic from FaceBook and Twitter

FaceBook and Twitter are huge sources of traffic, and you can easily tap into these networks to get free viral traffic.

In this video we reveal a special tool you can use to spread your affiliate links like wildfire on social media sites.

Automatically Convert Keywords to Affiliate Links in WordPress

Did you know that you can easily monetize any content page on your blog easily without having to edit them at all?

We reveal a secret way to automatically convert any keyword on your blog into affiliate links.

How to Manage Affiliate Banner Ads Using WordPress

If you're blogging for money, then you'll need to put banners on many different parts of your blog. Whether its affiliate banners or paid banners, we reveal how to manage and track them using an awesome plugin for WordPress.











Product #21 - 101 FREE Top Rated Wordpress Plugins + Master Resale Rights
Which Wordpress plugins should you use? Which ones work best? Which ones are compatible
with my WordPress version? It often takes HOURS OF VALUABLE TIME to figure out the
answers to those all-important questions. But not anymore! We've done the hard work for you.
Actual Selling Price If Purchased Separately: $17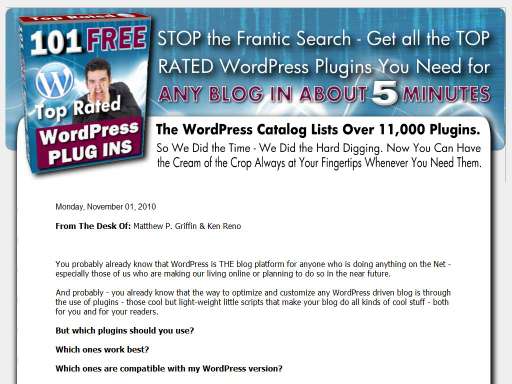 Master Resale Rights

You'll also get some super bonuses included with your package!




Product #22 - How To Create a Wordpress Powered Article Directory + Theme/Template - BRAND SPANKING NEW!
Actual Selling Price If Purchased Separately: $17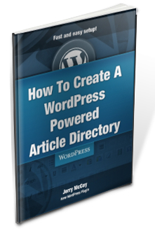 Professional Theme/Template: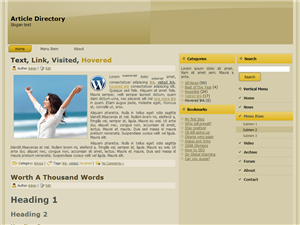 Your Master Resale Rights:
=======
[yes] Can be sold at any price
[yes] Has Master Resell Rights
[yes] Has Resell Rights
[yes] Can be Included in Paid Membership Sites
[yes] Can Be Sold on Auction Sites
[yes] Can be Bundled with other products
[yes] Can be Offered As a Bonus to a Paid Product
[yes] Can be given away
[no] Has Private Label Rights



Even MORE Wordpress Products Being
Added Throughout The Event!



WORDPRESS BONUS TIME!



Bonus #1

"WordPress SEO
Secrets Revealed" Guide

(Value $27)

This 21 page book is jam-packed with tons of great information on how to optimize your WordPress blog. It supplements the videos.
Personal Use Rights


More Bonuses...


| | |
| --- | --- |
| | Also, I have included over 50 full instrumental music tracks to use with your videos if you wish to add music at the start and/or the end. Personal Use Rights |
| | |
| --- | --- |
| | Ever wonder what the best plugins were to make your blog your own personal powerhouse? I have included over 30 plugins that you can use right out of the box so you can setup and have your own personal powerblog within minutes! Personal Use Rights |
| | |
| --- | --- |
| | Now you can make your blog truly shine with these great premium themes. Make yourself look like a pro instantly! Personal Use Rights |

INCLUDES
MASTER RESELL RIGHTSValued At $47

This Is Truly A Must Have For Any Wordpress Blogger.

You can....

Completely Automate Your Blog Posting.
Set Meta Descriptions & Keywords to each post page
Post 1, 2, 3....30 articles with one click.
Set the time interval between posts (daily , weekly, monthly).
All articles are posted alphabetically from the file name.
Video Tutorials on using the plugin.

It's Your Very Own Wordpress Automatic Posting Plugin.




There are a few terms we are placing on this master resell license:

1. That you under no circumstances bundle or package "Blog Post Automator" with more that 1 additional product on any one website regardless of who created them.

This applies to you and everyone that you happen to sell these rights to on down the line.

2. This software may never be given away for free or as a bonus to any other product, this includes giveaway offers.

3. This product may not be sold on eBay or any other internet auction site. This just devalues the product for everyone when some joker starts selling it there for $5 so don't do it or your license will be immediately and unilaterally revoked, and we will seek legal damages against you.

INCLUDES
MASTER RESELL RIGHTS
Valued At $47

If you use WordPress as a blogging platform then chances are good you are familiar with plugins like Blog Post Automator which automatically pulls articles from a folder & post them.

Content Bye-Bye works hand in hand with these types of plugins.

It takes the content that is being posted, works its magic and gives you content that is unique to you which in turn gives you a hell of a better chance of achieving excellent rankings. Which of course we all know, means more money.

Truly Amazing And It Can Be All Yours...

This Plugin Requires PHP 5 Or Greater.

Duplicate Bye Bye Wordpress Plugin - MASTER RESALE RIGHTS TERMS

[NO] Can Claim full ownership
[YES] Can be added to paid membership sites (min. $27 monthly fee)
[YES] Can be packaged with other products
(min. selling price $27 and no more than 5 products)
[YES] Can be sold (min. selling price $17)
[NO] Can be given away
[YES] Can sell Resale Rights
[YES] Can sell Master Resale Rights
[NO] Can sell Private Label Rights
[YES] Can be offered through auction sites (min. selling price $17)

[YES] Can Be Sold
[YES] Can Be Packaged
[YES] Can Be Offered As a Bonus
[YES] Can Be Added As Web Content
[YES] Can Be Used For Product Creation
[YES] Can Be Added To a Paid Membership
[YES] Can Be Used As Autoresponder Series
---
MORE BONUSES THAT WILL REALLY HELP YOU...
Five Awesome Marketing Tools You Can Give
Away To Your Customers!
We're also throwing in a superb bonus that you can use to build a massive list of potential customers. All you need to do is collect their names and email address by offering any of these powerful Internet marketing tools for free:






Keyword Warrior - Handy Keyword Research Tool

A simple yet handy in-your-pocket keyword research tool.

Just enter your main keyword, and you get a massive list of related keywords you can use, as well and important Google, Yahoo and MSN data.

Forum Warrior - Forum Marketing Tool

Forum marketing is unimaginably tedious without the correct tools.

This software allows you to manage posting to multiple forums, which you can view using the built-in browser.

You can also save your username and passwords to switch between forums easily!

Affiliate Warrior - Link Cloaking Tool

Every affiliate marketer needs this nifty piece of software.

Just enter your affiliate link and page title, and Affiliate Warrior automatically generates "cloaked" affiliate links.

You can either generate basic cloaked links, or advanced cloaked links.

Blog Warrior - Blog Commenting Tool

Find great blogs you can comment on, and get instant "backlinks" to your website.

Just enter your keyword, and Blog Warrior automatically searches for related blogs.

Automatically displays the PageRank and Alexa rankings so you won't waste your time commenting on low-traffic blogs.

Directory Warrior - Directory Submission Tool

Who doesn't need more free links to their website or blog?

With Directory warrior, you can submit your website to 200 free web directories using the effective directory browser.

It also displays the PageRank and Alexa traffic details, so you can maximize your submissions.




PLUS, you'll also get the complete salespage to sell the entire software package, or give it away for free to build a list- it's really up to you how you want to profit from it.
---
UPDATE:


NEW PLUGINS JUST ADDED!

WPRedirect - $17 Value

WPPayPal Button Generator - $9.97 Value



NEW THEMES JUST ADDED!

Nine Professional WP Themes - $24.95 Value






---




Get The Entire Wordpress Maniac Package, Valued At OVER $800 In
ACTUAL Real World SELLING Prices...For Only $197!
Early-Bird Pricing For The NEXT 100 Customers: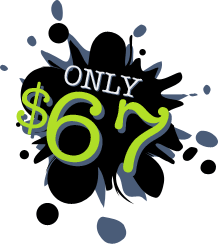 Secure Payments Via PayPal. Instant Access Day Or Night.