"With This Powerful New WordPress Plugin You Can Easily Add Automated Time Sensitive Widgets To Show Your Special Offers, Coupon Codes, Ad Spots, And More, To All Your Widgets On ALL Your Blogs..."
This Amazing Plugin Works To Add The Power Of Automation To ANY Widget
From the Desk of: Ken Sar
Dear WordPress User,
How useful do you think it would be to add the power of automation to EVERY single widget on your blog?
That's what the "Time Sensitive Widgets" plugin can do for you.
Introducing...

Time Sensitive Widgets
- Wordpress Plugin -
Master Resale Rights Included!
The "Time Sensitive Widgets" plugin adds time in and out settings for EVERY widget on your blog wherever you place them. You can select year, month, day, hour and minute from a date range and turn on and off a widget when it suits you.
This means you can run special offers, weekly ads and other time sensitive events and not have to worry about them showing at the correct time.
There are a lot of ways you could use this amazing plugin...
Distributing Time Sensitive Coupon Codes
Selling Ad Space
Daily Video Tutorials
Test Out Different Ads and Opt-in Forms
Anything Else You Can Think Of...
Distributing Coupon Codes
You could use Time Sensitive Widgets to display a coupon code for one day only once per week, or even once per day if you have enough different products for sale.
This would almost force visitors to come back every day to your blog to see what the coupon code was for, or they could even decide to opt in to your mailing list to get a reminder (and other offers) of when the coupon code is active.
You could then set up the same offers repeated in a cycle over several months, knowing that after you'd spent the time to set it all up once, it would be good for a very long time without you having to touch it again.
Selling Ad Space
As your blog naturally gets bigger and has more visitors you can use Time Sensitive Widgets and sell ad space on your blogs for a fixed price and a set length of time.
Once you've set a price and an ad block and sold it then you simply add a text widget to the agreed ad space and a date and time for the ad to start and end.
When the end time is reached, the widget quietly and without any fuss disappears from your blog and can be replaced with another. You could sell ad space for weeks or months in advance, spend an hour setting it all up and not worry about it again for a very long time leaving your time free for more productive things.
Daily Video Tutorials
People love to learn new things, so how about this idea to make your blog "sticky" and keep people coming back for more?
Set up a series of video tutorials broken down into no more than 10 minutes per tutorial per day. People like things kept short and sweet and a few minutes each day is much better than one very long one.
Upload the videos to YouTube and make them unlisted. This means the videos won't show in your channel list and people won't be able to search for them - they'll need to know the exact URL or ID in order to view each video.
Set up a series of text widgets with a link to each video to display each day.
So every day, a new video appears and the old one disappears.
If people want to view the whole set then they have to come back to your blog every single day. If you're very creative and productive (it's easy to make desktop recording tutorial videos with even a little practice) then you could place a new video up every day and not release the older ones for several months.
This means you get a double whammy of regular visitors and eventual customers.
Works With Any Widgets
The Time Sensitive Widgets plugin modifies ALL your widgets and this means you can use the built in scheduling to do things like:-
Plan promotions for upcoming products you may own or be an affiliate for
Add time sensitive coupon codes to your blog
Test out different ads to see which performs the best
Try out different opt-in forms with different deals
Run 48 hour sales that start and end automatically

All of this and more - limited only by your imagination - can be done with the Time Sensitive Widgets plugin.
Includes Full Documentation
The Time Sensitive Widgets plugin comes with an easy to understand PDF document with annotated screen grabs showing how the plugin works.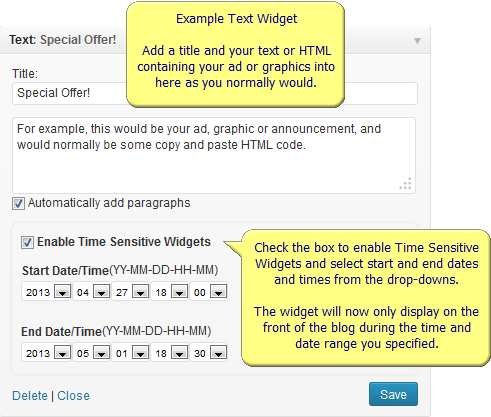 It's very easy to use. Just edit your existing widgets to make them time sensitive, or add a new widget and select the date and time range you want the widget to display.
Your purchase is absolutely risk free. Try this powerful WordPress plugin for 30 days, and if you're not satisfied just send me an email and I'll send you a refund right away. So there's absolutely no risk on your part. All the risk is on me.
Get the Time Sensitive Widgets plugin for WordPress now and start planning your promotions on your blog.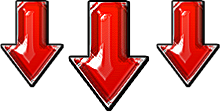 Warm Regards,

Ken Sar
P.S. The Time Sensitive Widgets plugin adds the power of automation to EVERY widget (new or existing) on ALL your blogs.
P.P.S. With a full 30 day money-back guarantee, you have nothing to lose. All the risk is on me.
P.P.P.S. You can use this incredible plugin to do things like add time sensitive coupon codes, sell ad space, run limited time sales and test out different promotions and opt-in forms. You should get it right now before the price rises.
LICENSE TERMS
[YES] Can be given away free (Personal Use Rights Only - rights MUST be sold
[YES] Can be sold for a minimum of $7
[YES] Can be offered as a bonus for a paid product that sells for at least $10
[YES] Can be bundled/packaged with other paid products and sold, as long as the bundle/package sells for at least $10
[YES] Can sell Resale Rights for a minimum of $9
[YES] Can sell Master Resale Rights for a minimum of $10

[NO] Can sell Private Label Rights
[NO] Can be included in membership sites (free or paid)
[NO] Can sell on auction sites [NO] Can sell on Tradebit.com and all the similar sites
[NO] Can be sold as a WSO

EVERY EFFORT HAS BEEN MADE TO ACCURATELY REPRESENT THIS PRODUCT AND ITS POTENTIAL. THERE IS NO GUARANTEE THAT YOU WILL EARN ANY MONEY USING THE TECHNIQUES AND IDEAS PROVIDED WITH THIS WEBSITE. EXAMPLES IN THIS PAGE ARE NOT TO BE INTERPRETED AS A PROMISE OR GUARANTEE OF EARNINGS. EARNING POTENTIAL IS ENTIRELY DEPENDENT ON THE PERSON USING THE INFORMATION INCLUDED TO THIS PAGE, THE IDEAS AND THE TECHNIQUES. WE DO NOT PURPORT THIS AS A GET RICH SCHEME. YOUR LEVEL OF SUCCESS IN ATTAINING THE RESULTS CLAIMED IN THIS PAGE DEPENDS ON THE TIME YOU DEVOTE TO THE IDEAS AND TECHNIQUES MENTIONED, YOUR FINANCES, KNOWLEDGE AND VARIOUS SKILLS. SINCE THESE FACTORS DIFFER ACCORDING TO INDIVIDUALS, WE CANNOT GUARANTEE YOUR SUCCESS OR INCOME LEVEL. NOR ARE WE RESPONSIBLE FOR ANY OF YOUR ACTIONS. MATERIALS IN THIS PAGE MAY CONTAIN INFORMATION THAT INCLUDES FORWARD-LOOKING STATEMENTS THAT GIVE OUR EXPECTATIONS OR FORECASTS OF FUTURE EVENTS. YOU CAN IDENTIFY THESE STATEMENTS BY THE FACT THAT THEY DO NOT RELATE STRICTLY TO HISTORICAL OR CURRENT FACTS. THEY USE WORDS SUCH AS ANTICIPATE, ESTIMATE, EXPECT, PROJECT, INTEND, PLAN, BELIEVE, AND OTHER WORDS AND TERMS OF SIMILAR MEANING IN CONNECTION WITH A DESCRIPTION OF POTENTIAL EARNINGS OR FINANCIAL PERFORMANCE. ANY AND ALL FORWARD LOOKING STATEMENTS HERE OR ON ANY OF OUR SALES MATERIAL ARE INTENDED TO EXPRESS OUR OPINION OF EARNINGS POTENTIAL. MANY FACTORS WILL BE IMPORTANT IN DETERMINING YOUR ACTUAL RESULTS AND NO GUARANTEES ARE MADE THAT YOU WILL ACHIEVE RESULTS SIMILAR TO OURS OR ANYBODY ELSE'S, IN FACT NO GUARANTEES ARE MADE THAT YOU WILL ACHIEVE ANY RESULTS FROM OUR IDEAS AND TECHNIQUES IN OUR MATERIAL.
Software Disclaimer: The software is distributed 'as is' and with no warranties of any kind, whether express or implied, including and without limitation, any warranty of merchantability or fitness for a particular purpose. The user (you) must assume the entire risk of using the software. In no event shall any individual, company or organization involved in any way in the development, sale or distribution of this software be liable for any damages whatsoever relating to the use, misuse, or inability to use this software (including, without limitation, damages for loss of profits, business interruption, loss of information, or any other loss).'