ATTENTION: WordPress website owners who need more reader engagement....
"Finally! An Easy Way To Grab Your Reader's Attention, Point Her To The Information She Really Needs, And Eliminate The 'Boring Text' Look That Drives Visitors Away From Your Blog!"



From: Ken Sar
Re: Are your readers' eyes glazing over?
Dear Fellow Blogger,
Have you ever landed on a blog or website and been met with a wall of endless text, with nowhere to rest your eyes? It's exhausting just to look at, let alone read.
That's why - among other reasons - images are such an important part of blogging today. Not only do they make your page more attractive, but they help encourage readers to consume your content.
But not all images are created equal. Sure, you've got your "featured image" - most likely a stock photo with some text on it - and that's a great start. For some blog posts, though, you need more.
Images Are Powerful
You can use images in your blog posts to lead readers along the path you want them to take. Images can encourage your visitors to take action. They can even reduce your bounce rate, simply by keeping readers on the page longer.
Small icons, in particular, are incredibly useful for:
Highlighting sale prices.
Accentuating headlines.
Drawing attention to special features.
Outlining a step-by-step process.
Making content more "scanable."
In fact, you've just seen the power of these little images in the bullet list above. The green checkmarks convey a message that a simple bullet just cannot do.
Using Icons On Your Blog Posts And Pages
So if we know how useful icons and images can be, why don't we use them more often? Primarily, because it's a major pain on most websites:
Finding just the right icon can take hours - if you even know where to look.
Keeping your purchased icons organized on your computer is a challenge.
Proper alignment - especially on WordPress - is a constant source of frustration unless you know HTML.
Resizing required the use of a photo editor.
And adding color? That is going to require some real skills.
At the very least, using icons or small images in your posts is a time-consuming prospect. At the worst, it requires some serious photo editing skills to get just the look you want.
No wonder we ignore this powerful little tool in favor of bland, boredom inducing text.
An Easy Way To Add Icons To
Pages And Posts In WordPress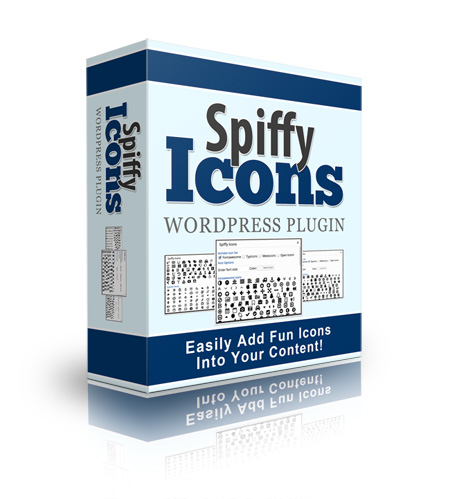 What if adding icons to your blog posts and sales pages were as easy as clicking a button? Imagine how much more effective your sales copy and how-to guides will be, not to mention how much faster you'll be able to finish your writing and get back to business!
Spiffy Icons plugin for WordPress makes it easy with point and click access to hundreds of icons as well as unlimited color and size choices.
With Spiffy Icons, you get...
Super-simple installation - just upload to your plugins folder and go.
Zero complicated settings - everything is already set up for you from the start.
Your choice of 4 built-in icon sets totaling hundreds of icons - virtually guaranteeing you'll find just the right one for any occasion.
Unlimited color choices for each icon - no more hunting for something "close" or "good enough".
Automatic sizing, color, and alignment of your icons when used with your theme's heading styles - so no HTML code to deal with.
Manual size setting for individual icons so you can get just the look you're going for every time.
Point and click interface built right into the WordPress post editing screen for easy, on-the-fly insertion and formatting.
Easy use on both posts and sales pages for added flexibility.
High-quality vector icons for unlimited sizing options.
No need to buy added icon sets - everything is included.
With the Spiffy Icons plugin, you get everything you need to create visually appealing posts and sales pages without spending hours hunting through icon libraries and researching usage licenses. Just point, click, and done.
Here's just a small sample of the icons that come with this incredibly useful plugin.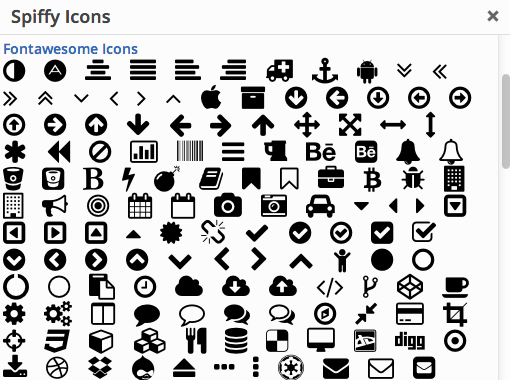 With these (and many, many more) icons you'll be able to easily:
Highlight sale prices.
Accentuate headlines.
Draw attention to special features.
Outline a step-by-step process.
Make content more "scanable."
Increase conversions on sales pages.
Point out social media links.
Make download links more visible.
But even with all its many benefits, I understand you might be reluctant to try yet another plugin. That's why you'll be happy to know I'm backing Spiffy Icons with my...
Your purchase is absolutely risk free. Try Spiffy Icons for 30 days, and if you're not satisfied just send me an email and I'll send you a refund right away. So there's absolutely no risk on your part. All the risk is on me.
Stop settling for boring posts and sales pages, and start "spiffing" them up with colorful, easy-to-use icons. Your visitors will thank you for it!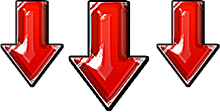 Get Instant Access Now

Yes! Sign me up! My posts and sales pages need a little added something, and Spiffy Icons is just what I've been looking for!

I understand I'll get:

The easy-to-install, no-configuration-needed plugin and usage guide.
Four built-in icon sets with hundreds of handy icons I can use immediately.
The ability to choose any colors I like, with no need to hunt for just the right color from among different sets.
DEVELOPER LICENSE INCLUDED For a Limited Time!

In short, I know this plugin will make adding icons to my posts and pages easier and faster than any other solution I've found....

Only $ 9.97
P.S. It's a proven fact that images and icons make your text more readable and reduce your page bounce rate. Stop letting your visitors slip out the door when keeping them reading is as easy as installing this plugin.
P.P.S. Remember - there is no risk to you. If Spiffy Icons doesn't perform just as I said it would, simply email for a quick, courteous refund.