Attention: To Those Who Want to Become Social Media Mavens
Do You Want to Run an Online Contest?
Do You Want To Build Website Traffic and Increase Your Internet Visibility?
Now You CAN!

Dear Internet Marketer,

While you might have tried to stay away from gimmicks in your online business, chances are good that you feel you need to ramp things up lately. Though people are still going online and buying new things, they're not as active as they once were.

If you've been noticing that your website isn't getting enough attention, you might need a crash course in social media marketing and how to use it correctly.

Once you have the new traffic coming to your site, that's when you can run a contest or a sweepstakes.

Often, it's not that Web™ surfers aren't interested in coming to your site, but they need a REALLY good reason to be there, especially in these tougher economic times.

That's where "Social Media Contests Tycoon" can help you.

Why Do You Need More Website Traffic?
You need people to come to you online. Though your business might be doing well right now, and you might feel like you're on the road to success, chances are good that you're not getting as much traffic as you could.

That's why you need more people to come to you. And you always need to be bringing in more traffic, even when things are good.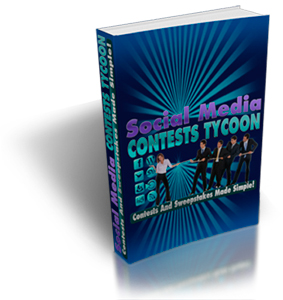 When you want to build upon the traffic that is coming to your website, "Social Media Contests Tycoon" will help you succeed:

Learn how to improve website traffic
Improve SEO™
Change your website design to be more impactful
On-page optimization
Off-page optimization
Pay-per-click advertising
Cost per action programs
Banner advertising

With all of this advice, you can easily and quickly implement your ideas and get them working for you.

In just a few short hours, you will notice your traffic improving - and your profits.
Are You Ready For Social Media?
The trick with using social media for your business is that it's much more complicated than you might realize at first.

You need to learn all of the tricks - and "Social Media Contests Tycoon" can help there too.

Social pages
Bookmarking
Being a good online citizen

The more that you can learn about the social media setting, the more that your contests and sweepstakes will succeed.
Why Do You Need Contests and Sweepstakes?

Some call them gimmicky, others call them just the burst of energy that a company needs to bring in more customers.

In "Social Media Contests Tycoon" you will find out about:

Contests vs. sweepstakes
Benefits of a contest
Benefits of a sweepstakes
Marketing benefits
SEO benefits
Relationship building

You may not have realized just how much you can get just from putting up a contest or a sweepstakes. But after reading "Social Media Contests Tycoon" you will.
How Do You Create Your Contest?
To make sure that you're getting attention for your contest or sweepstakes, you need to take advantage of the Internet and your creativity.

In "Social Media Contests Tycoon" you will find out more about:

Contest planning
Big and small prizes
Legal issues that pertain to contests and sweepstakes

This information will make sure that you're increasing your company or website's attractiveness online - and it will ensure that your plans are successful.

How Can I Spread the Word About My Sweepstakes?
In "Social Media Contests Tycoon" we will go over a number of different ways that you can make sure that your contest or sweepstakes gets noticed:
Social media tools
Digg™
How to socialize
How to categorize
How to tag
How to use meta data
Conversation starters
Photos
Social etiquette
Blogs
Forums
Article marketing
Press releases
Paid search campaigns
Joint ventures…
And so much more.

There are pages upon pages of advice and instruction so your contest or sweepstakes will be seen.

You will also learn about resources that you can use to succeed:
Contest services
Newsletter services
Article directories
CPA networks
Google™ resources
You will find out all that you can about spreading the word so that anyone who wants to enter your contest will know that you are accepting entries.

(And yes, you'll also learn how to deal with cheaters, contest loopholes, etc.)
Getting Online, Getting Paid
If you've wanted to create a contest or a sweepstakes online, "Social Media Contests Tycoon" is the book for you.

With nearly 70 pages of information, you can't help but win at posting contests and sweepstakes online.

You're the winner with this book.
"No-Questions-Asked
Money Back Guarantee!"

Get the ebook right now (just click the link) and start reading it. If you're not thrilled ask for your money back.

You have 30 days to decide.

If it doesn't help you or if at any time in thirty days you decide this was not what you needed then ask and ye' shall receive a full refund of your purchase price. No questions asked.
TAKE ADVANTAGE OF THIS SPECIAL OFFER RIGHT NOW!
---
---
| | | |
| --- | --- | --- |
| | & | |
Make Money..! Grab PLR & Resell Rights
EBOOK, AUDIO & SALES MATERIAL JUST $34.97


PLR & Resell Rights License:
[YES] You Get Sales Material
[YES] Sell eBook For $17.00
[YES] Sell Audio For $27.00
[YES] Sell eBook & Audio For $29.97
[YES] You Can Rename The Product
[YES] You Can Edit Sales Pages & Make New Graphics
[YES] Sell On Auction Sites (on CD & using fixed price)
[NO] Add To Any Membership Site
[NO] Give Away For Free
Sincerely,
Ken Sar
Disclaimer | Terms | Privacy | Contact
Copyright © All Rights Reserved.