From: The Desk Of Ken Sar
Date: Thursday January 06, 2011
Dear Fellow Entrepreneur,
I have something very exciting to share with you....
For the past few months I've been working closely with a small group of web programmers quietly on the side putting together something very unique and exclusive. Our goal was to develop a new WYSIWYG style email list building tool, but along the way we encountered a few obstacles.
The First Thing We Needed To Tackle Was Installation
If the new website script was hard to install and set up this would be a major problem for nearly anyone who wanted to use our software. It had to be upload, point and click simple if we had any hope of being successful.
Our Next Hurdle Was Over-All User Functionality
The vast majority of the people we spoke to early on were not overly HTML savvy, so we knew this was going to be important. And with the rising trend of WordPress blogs and CMS (content management system) driven websites being used these days our most logical choice was to createa super easy to use web-based editor that even a child could figure out.
Finally Our Users Needed Added Control And Security
We acccomplished this by creating a snipped of code they could add to any page they wanted our script to run on, while leaving all other web pages completely unaffected. The only exception to this of course would be bloggers and other such code driven websites where there was a "header" file used univerally for the entire website, as our slide up would work on all pages.
This leaves us with security, which was by far the issue requiring our attention as most web hosting companies offer services with a built in control panel as a convenience to their customers. To aid with this we've structured things neatly by placing the script itself in to a sub-folder to be uploaded in to the directory you want the slide up to work in.
Watch The Video Below As I Show You How Easy The Slide Up Script Is To Use

Click Here To See A Sample Of The Slide Up In Action >>>>>>>>>>>>
It's important for you to watch the video all the way through to the end and follow the cPanel instructions on setting up security for the control panel you'll be using. The last thing you want is for someone else to figure this out and use your page to build their own email list while you go on promoting things none the wiser about changes that were made.
For your added convenience we've added in the raw MOV and WMV video file, so that both our Mac and our Windows user customers can download them and watch in their spare time whenever they need additional help setting things up.
We're Also Going To Give You A 100% Guarantee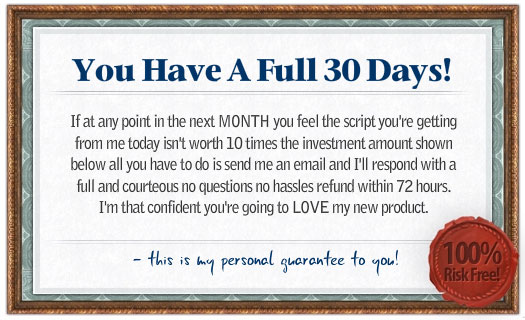 There's Only One Catch.... You Have To Take Action Today Before The Price Goes Up!