Attention Affiliate Marketers: Make More Money From Your Blogs
"Did You Know That You're Losing 30% or More in Affiliate Commissions? This New Software Stops That In It's Tracks... Immediately!"
A Simple 2-Minute Auto-Installation Process Is All It Takes to Protect Your Commissions and Have More SEO Friendly and Managable Blogs.
Dear Blogger and Affiliate Marketer,
The fastest and easiest way to make money online is by selling others people's products and earning commissions or referral fees; this is called affiliate marketing.
You can make a good income without anything other than an ability to send people to the product owner's website.
But, one of the biggest problems affiliate marketers have is that when many people see an affiliate link to shy away from clicking it or they strip away the affiliate portion of the link.
It has been estimated that 30% or more of your affiliate commissions are being stolen right out of your wallet!
That can add up to hundreds or thousands of dollars each and every month... gone, never to be recovered.
As your affiliate sales and commissions grow, so will the amount you are losing.
How You Can Protect Your Affiliate Commissions and
Increase Your Income Up To 40% or More!
There are a few, rather unpleasant, ways that you can use to try to protect yourself affiliate income:
Use complicated custom CGI scripts, they are sometimes effective but can be very difficult to use and requires hiring technical experts.
Use a link shortening service, which hide the link with a weird looking Web address -- although sometimes it's only temporarily hidden -- and it is a highly inconvenient solution. Plus, when many people see a weird looking shortened link the are hesitant to click it.
Create a redirect page, this also works okay but it can be a partial solution and require some technical knowledge to setup.
But...
While a WordPress blog is the best vehicle to do advanced affiliate marketing they, unfortunately, make it even harder to protect affiliate links.
But now you can turn your WordPress blog into the ultimate affiliate marketing system.
How?
Introducing WP Redirect Bot!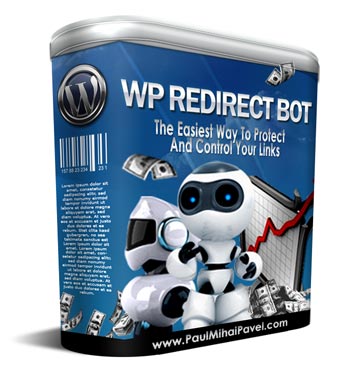 WP Redirect Bot is one of the simplest to use yet most useful plugins for Wordpress that's been released.
It's almost like having your own personal URL redirection service and is perfect for shortening and hiding affiliate links!
All without have to hack your theme or figuring out how to update the Unix .htaccess file...
Simply install WP Redirect Bot as you would any plugin and you're ready to use it to redirect any post or page.
After installation, whenever you add or edit a post and page you will see an entry area that looks something like this:

To use it, just create a blog post or page (it can be blank post or page) and enter the Web address of desired destination in the box labeled "Redirect to this URL?" and you're done.
Then when someone clicks a redirected link it doesn't go to the link but goes to the Web page that you had entered when you created the post or page.
No technical knowledge required, no inconvenient shorteners... just enter the Web address and you're done.
You'll Be Making More Money and . . .
Not only will you be pocketing lots of extra cash but WP Redirect Bot will benefit you in many other important ways:
You can redirect any blog post or page to any location on the Internet.
Don't break or lose your all-important back links -- you can easily change your permalinks without any loss.
Don't frustrate and lose visitors with "404 page not found" errors by redirectly pages that have common misspellings.
Improve the SEO of your blog posts and pages by making SEO-friendly web addresses.
Create nicer and easier to remember Web addresses -- these are also great for podcasts.
Easily move and rearrange your pages or even your entire blog.
Find your best performing links with the automatic link tracking statistics on every redirected link.
Bigger bank account... Better SEO... Saving your back links... What more could you ask for?
How About If I Give Your a Great Deal . . .
In fact, the deal is so good that if you get just one more average commission payment you'll more than recoup your investment in WP Redirect Bot.
Now multiply that by just one saved payment a month -- far less than you are likely to save -- and this investment turns into a virtual cash cow for you; paying again and again for as long as you it.
Then, when you factor in the the amount of time and inconvienence it will save you, the investment becomes so enticing that you won't even think about passing it up.
So the time to take action is now for you can get WP Redirect Bot today for the small investment of $17.00.
Even though your investment should be a non-factor I still want you to not have any concerns... Here is my 100% Money Back Guarantee...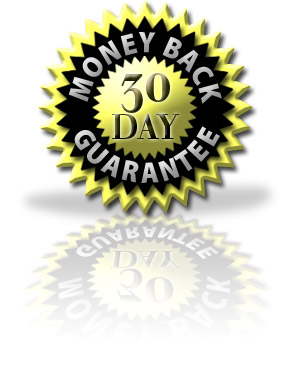 My "Save Commissions" guarantee is that I want you to feel happy and even proud of your investment.
So, if anytime within the first 30 days (even on the 30th day) you're not absolutely overjoyed with what you receive then just let me know and
I'll gladly give you 100% of your investment back.
Quietly and Promptly, No Questions Asked!
And that's a promise.
Now Your Success Is In Your Hands...
You can keep losing your commissions
or wasting your precise time and money
OR
...
You can try out WP Redirect Bot risk free for 30 days and start making more money from increased affiliate sales.
TAKE ADVANTAGE OF THIS SPECIAL OFFER RIGHT NOW!
Get your own personal copy of WP Redirect Bot today for just $17.00 and you'll get my personal 30-day 100% money back guarantee.
Wait...
Special Holiday Sale Is On...
Order Now For Only $10.00


Master Resale Rights Included!
This offer is valid till Dec 31st 2010 11:59PM PST.
Get Yours Now!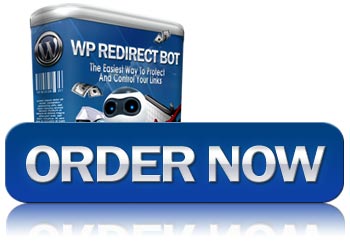 This is a completely digital product that'll you'll be able to download within minutes from now. You will not receive a physical copy of WP Redirect Bot
To your Success,
Ken Sar
P.S. Don't forget that you can grab WP Redirect Bot today and have it working 24/7/365 for you in just minutes AND you're covered by my 30-day, no-questions-asked 100% money-back guarantee, so get it now while you're thinking about it.
Disclaimer | Terms | Privacy | Contact
---
Copyright © 2010 - All Rights Reserved
EARNINGS DISCLAIMER
EVERY EFFORT HAS BEEN MADE TO ACCURATELY REPRESENT THIS PRODUCT AND ITS POTENTIAL. THERE IS NO GUARANTEE THAT YOU WILL EARN ANY MONEY USING THE TECHNIQUES AND IDEAS PROVIDED WITH THIS WEBSITE. EXAMPLES IN THIS PAGE ARE NOT TO BE INTERPRETED AS A PROMISE OR GUARANTEE OF EARNINGS. EARNING POTENTIAL IS ENTIRELY DEPENDENT ON THE PERSON USING THE INFORMATION INCLUDED TO THIS PAGE, THE IDEAS AND THE TECHNIQUES. WE DO NOT PURPORT THIS AS A GET RICH SCHEME. YOUR LEVEL OF SUCCESS IN ATTAINING THE RESULTS CLAIMED IN THIS PAGE DEPENDS ON THE TIME YOU DEVOTE TO THE IDEAS AND TECHNIQUES MENTIONED, YOUR FINANCES, KNOWLEDGE AND VARIOUS SKILLS. SINCE THESE FACTORS DIFFER ACCORDING TO INDIVIDUALS, WE CANNOT GUARANTEE YOUR SUCCESS OR INCOME LEVEL. NOR ARE WE RESPONSIBLE FOR ANY OF YOUR ACTIONS. MATERIALS IN THIS PAGE MAY CONTAIN INFORMATION THAT INCLUDES FORWARD-LOOKING STATEMENTS THAT GIVE OUR EXPECTATIONS OR FORECASTS OF FUTURE EVENTS. YOU CAN IDENTIFY THESE STATEMENTS BY THE FACT THAT THEY DO NOT RELATE STRICTLY TO HISTORICAL OR CURRENT FACTS. THEY USE WORDS SUCH AS ANTICIPATE, ESTIMATE, EXPECT, PROJECT, INTEND, PLAN, BELIEVE, AND OTHER WORDS AND TERMS OF SIMILAR MEANING IN CONNECTION WITH A DESCRIPTION OF POTENTIAL EARNINGS OR FINANCIAL PERFORMANCE. ANY AND ALL FORWARD LOOKING STATEMENTS HERE OR ON ANY OF OUR SALES MATERIAL ARE INTENDED TO EXPRESS OUR OPINION OF EARNINGS POTENTIAL. MANY FACTORS WILL BE IMPORTANT IN DETERMINING YOUR ACTUAL RESULTS AND NO GUARANTEES ARE MADE THAT YOU WILL ACHIEVE RESULTS SIMILAR TO OURS OR ANYBODY ELSE'S, IN FACT NO GUARANTEES ARE MADE THAT YOU WILL ACHIEVE ANY RESULTS FROM OUR IDEAS AND TECHNIQUES IN OUR MATERIAL.
Software Disclaimer: The software is distributed 'as is' and with no warranties of any kind, whether express or implied, including and without limitation, any warranty of merchantability or fitness for a particular purpose. The user (you) must assume the entire risk of using the software. In no event shall any individual, company or organization involved in any way in the development, sale or distribution of this software be liable for any damages whatsoever relating to the use, misuse, or inability to use this software (including, without limitation, damages for loss of profits, business interruption, loss of information, or any other loss).