Dear Friend,
You are fortunate enough to be in front of one of the
HOTTEST
current & future internet trends.. in its infancy.
It will only skyrocket
from the point it's at now AND WILL prove to be not only a trend.. but
will become STANDARD EQUIPMENT
for ANY web presence.
Of course this trend is
MOBILE OPTIMIZED WEBSITES
.
With
more than 20% of internet users using ONLY their mobile device to surf the net
..
ANY business that does not have a mobile optimized version of their site is effectively IGNORING hundreds of millions of potential website visitors
.
This fact ALONE
is usually
enough to convince a potential client to shell out the cash
to have a mobile optimized version of their website made for them.. or at least.. piques their interest enough to listen to further arguments for having one made for them.
Frankly,
it's like taking candy from a baby
, selling this to businesses that already have a normal website.
BUT..
it's tough enough to create a normal website
.. and tough meaning; time consuming to do yourself, expensive & risky to outsource, difficult to learn to write the code yourself, etc..
let alone creating "mobile optimized" websites
.
Because this is such a new trend.. there are very limited resources for helping you to create mobile optimized websites inexpensively and easily...
... especially if you are not technically minded or skilled (or LAZY <<< that's me lol).
... until now...
Introducing...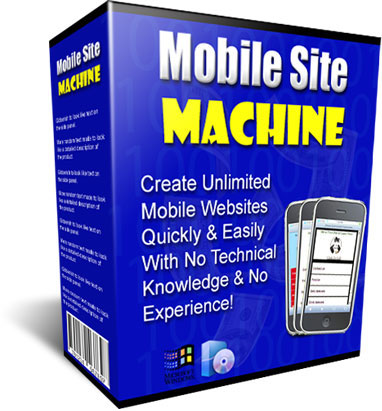 How Mobile Site Machine Works?

This software is EXTREMELY easy to use. All you do is fill in the blanks with the company information (name, address, phone, email, etc.) Then pick the colors you want (you'll see how to quickly and easily match your client's normal site color scheme).

All you do is copy the content from the normal site that you want in the mobile site and paste it into the software when prompted.
The software will create up to ten mobile optimized pages for the content you are copying & pasting..
PLUS a "Contact Us" page and "Find Us" page integrated with Google Maps are generated automatically.

Once the software has created the mobile site.. you just upload it and you're done!



Software Features:

Choose your preferred Font type
(Arial, Courier, Helvetica , Times New Roman, Verdana)

Adjustable Menu Font Size
(use large size for short menu text or small size for long menu text)

Optional Header/Logo Image
(instructions for using the client's logo from their normal site included)

Optional Click To Call Image
(import an image from your compter or use the default text)

Project "SAVE" Feature
(so you can easily make any changes after creating the site)
What Can You Do With The Software?..
- Use it to build you own network of mobile optimized websites
- Use it to build mobile optimized websites for your offline clients ... (with the added bonus developer license given below)
- Build pre-made mobile websites and sell them on Flippa
- And that's just a few ideas...
So.. What Do You Get?



1.

The software app that creates the entire Mobile Optimised Website


2.

A video walk-through of the software being used to create a mobile optimized website


3.

A video tutorial on using FTP to upload files to your webhost (just in case you need it)


4.

A resource file with optional free supporting software (image manipulation, FTP, etc.)


5.

Redirect scripts with instruction video (to detect & redirect mobile browsers from the normal site to the mobile version of the site).



Frequently Asked Questions:



Q.

Is this Web Based, Desktop Software or a Wordpress Plugin?


A.

This is desktop software designed for use on Windows OS (.exe)





Q.

Are the sites it creates WP sites? or Static sites?

A.
The software creates Static PHP Websites NOT Wordpress Sites.
Q.
What is the benefit of this type of website as opposed to WP sites?
A.
These sites typically load a lot faster into browsers than WP sites.

How Much?
Imagine you can create your own mobile website and let it be found on the mobile phone.
How many sales you will get from those untapped mobile traffic?
If you only get 1 sale for your $27 product, would this software worth $27 to you? And remember, you will get more sales from the mobile traffic.
How about 5 sales for your $9.97 product, would this software worth at least $50? What about just 50% of that?
You can see clearly that this is a valuable software that can help your website and your company expose to those millions mobile users. And eventually you will get even more sales = more profit.
But before I let you in the price of this software, let me show you this additional bonus that you will be getting if you purchase today....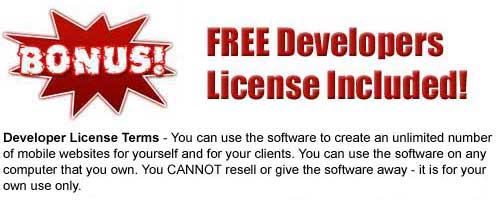 With this EXCELLENT bonus, now you not only build mobile optimized website for yourself, but you can also provide a service to others and charge them premium for it, by helping them converting their website to mobile optimized.
You can charge as low as $97 for your service and they will even thank you for that.
Or just show off your friend(s) and build a mobile website for them
May be you can impressed a girl or 2 and get the date you always wanted... (That might happen)
Anyway, back to the pricing of this software.
Not $97
Not $67
Not $47
Not $37 Either
How about $27?

I believe $27 is a fair price for this software. Won't you agree?
But if you order today, RIGHT NOW, you can have it for $ 9.97
However, please understand that this is a limited time offer and I reserve to raise the price at anytime.
So, DON'T DELAY!
Get Mobile Site Machine Now For Just $9.97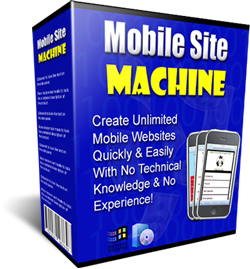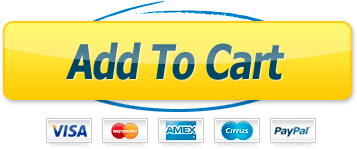 Make sure to click on RETURN TO MERCHANT for your download.
You will get to download this software immediately after completion of your payment.
There is no high pressure One Time Offer either.
To Your Mobile Websites,
Ken Sar
PS. Make sure to grab it before I come to my sense and raise the price back to at least $27
PPS. Get it now and start building optimized website for yourself or charge premium price for building mobile optimized website to your offline clients.
Disclaimer | Terms | Privacy | Contact