"How Would You Like to Be Able To Tap Into Over $5 Billion in Sales That 91% of Your Competitors Can't Even Touch?"
Smart Mobile Devices are THE Place to Be
Right Now and Most Sites Look So Hideous That Customers Can't Even Use Them . . . Let Me Tell You How You Can Be One Of The Few That Can!
Dear Online Entrepreneur,
Here are some important facts you should know:
In 2008, there were 131 million smartphones sold worldwide.

In 2009, the number of smartphones sold worldwide exceeded 180 million.

By 2013, the number of smartphones sold annually is expected to top 300 million.

The number of smartphone users is expected to exceed 1 billion worldwide by 2014.
And, that's just people with smartphone not all cell phones.
However, that's not the important part, look at these facts:
45% of smartphones owners abandoned the sales process because the site would not load on their phone.

An additional 38% left the site because it was not developed specifically for smartphone users and was too hard to use.

Another 8% of smartphone owners that tried to purchase a product on their device were unable to do so for unspecified reasons.
Do you understand what that means?
Yes, BU of smartphone users were unable to make a purchase when they had their credit card out and wanted to buy.
They wanted to buy and couldn't.
They might have been on your website and it might have been you that lost the sale.
It's Time to STOP Losing Sales and Start Picking Up
All Those Sales Your Competitors Are Losing!
As you see above, the majority of mobile phones users are browsing, searching and buying on the Internet using their handsets.
When you design your websites, if you only design them for PC viewing then you need to seriously consider how they'll look and work on mobile devices.
As the mobile Internet has developed, people expect the same standards when browsing on their handsets as when they're on they're PCs.
To make a website look good on a mobile phone like an iPhone takes a lot of special programming to make it work and, as a marketer, you don't want your pages to just work, you want your pages to stand out from your competitors and shine!
The problem is you don't have the slightest idea how to do that and, guess what, it's easier said then done.
Which One Do You Want Your Site to Look Like?
How to Steal Your Competitors Mobile Customers . . .
That's easy, just build a mobile-friendly site. Here's how...
The layout of your website MUST be properly formatted to display properly on mobile phones.
Instead of worrying whether people can see your pages, by far the easiest method to handle cell/smart phone users is to simply put a link at the top of your pages that point to your mobile version.
Then your site visitors can select whether they want to see the mobile version or continue with the normal version.
I know what you're saying, "How do I create mobile friendly sites? And isn't it expensive?"
Good questions. Keep reading...
To create a mobile website you need to have pages in a mobile markup language such as WML or CHTML.
To create that over and over again can indeed be expensive.
However, there's a better solution.
Introducing Mobile Site Bot!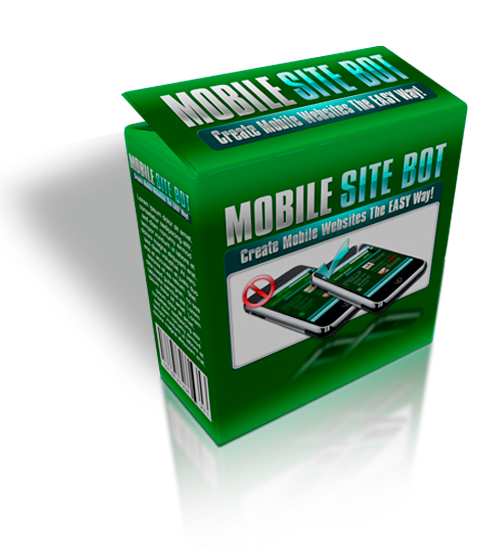 Mobile Site Bot is a software program that will help you quickly and easily create Web site after Web site by using the built-in templates or you can create any number of templates to build your pages from.
And these sites will be completely mobile device ready. Meaning:
Save the time, expense and trouble of creating multiple sites for different devices -- create it once and it works on multiple devices.

Save the time, expense and trouble of maintaining multiple sites for different devices -- change it once and it's changed for multiple devices.

Stop reinventing the wheel, quickly create Web page from pre-defined templates and use them for the Web pages throughout your Website or on as many websites as you'd like.

Make all those sales that your competitors can't because they don't have mobile ready sites.
The total number of mobile devices in the world exceeds the number of desktop and computers you must be thinking mobile.
ABI Research published a report recently on that in the U.S. the mobile market will reach $5 billion in 2010.
And remember that 91% of mobile users abandoned their purchases because of problems with the website they were trying to use.
Mobile Site Bot will help you to breakthrough the barrier of mobile device websites and deliver your content, messages, and promotions to mobile users everywhere and get yourself a piece of those billions -- after all, your competitors aren't!
You Can Capture More Than Your Share of Mobile Users and . . .
Get a Deal That Will Stop You In Your Tracks
Creating mobile-friendly content has quickly become a "must have" by those who want to be successful in this decade.
But to have a someone create you a mobile friendly website can cost you $1,000 or more depending upon the size and content of the site.
And that's for just one site, if you have others then you'll have to pay that for each one.
There are some free solutions but they are incomplete, generally require a level of technical knowledge you won't have and, even after all that, require a lot of time to setup for each site.
Do you really have the time and desire for that?
Particularly when Mobile Site Bot can create mobile-friendly websites quickly and easily for a small fraction of the cost of having someone create just one website for you.
For a total investment today of $17.97, you can be building your mobile websites with Mobile Site Bot immediately.
When you realize that you can be capturing those lost mobile sales all for a fraction of creating a mobile site built it's very hard to say no to this amazing deal.

My "Go Mobile" guarantee is that I want you to feel happy and even proud of your investment.
So, if anytime within the first 30 days (even on the 30th day), you're not absolutely overjoyed with what you receive then just let me know and
I'll gladly give you 100% of your investment back.
Quietly and Promptly, No Questions Asked!
And that's a promise.
Now Your Success Is In Your Hands...
You can keep losing mobile sales because your websites don't work with mobile devices...

OR...
You can try out Mobile Site Bot risk free for 30 days and start capturing those sales and the sale of your competitors.
TAKE ADVANTAGE OF THIS SPECIAL OFFER RIGHT NOW!
Get your own personal copy of Mobile Site Bot today for just $17.97 and you'll get my personal 30-day 100% money back guarantee.

Mobile Site Bot is a digital product that'll you'll be able to download within minutes from now. NO waiting around for the mailman :-)

To your Success,
Ken Sar
P.S. Don't forget that you can grab Mobile Site Bot today and be creating an unlimited number of mobile-friendly websites, quickly and easily AND you're covered by my 30-day, no-questions-asked 100% money-back guarantee, so get it now while you're thinking about it.

Disclaimer | Terms | Privacy | Contact
Copyright © All rights reserved
EARNINGS DISCLAIMER
EVERY EFFORT HAS BEEN MADE TO ACCURATELY REPRESENT THIS PRODUCT AND ITS POTENTIAL. THERE IS NO GUARANTEE THAT YOU WILL EARN ANY MONEY USING THE TECHNIQUES AND IDEAS PROVIDED WITH THIS WEBSITE. EXAMPLES IN THIS PAGE ARE NOT TO BE INTERPRETED AS A PROMISE OR GUARANTEE OF EARNINGS. EARNING POTENTIAL IS ENTIRELY DEPENDENT ON THE PERSON USING THE INFORMATION INCLUDED TO THIS PAGE, THE IDEAS AND THE TECHNIQUES. WE DO NOT PURPORT THIS AS A GET RICH SCHEME. YOUR LEVEL OF SUCCESS IN ATTAINING THE RESULTS CLAIMED IN THIS PAGE DEPENDS ON THE TIME YOU DEVOTE TO THE IDEAS AND TECHNIQUES MENTIONED, YOUR FINANCES, KNOWLEDGE AND VARIOUS SKILLS. SINCE THESE FACTORS DIFFER ACCORDING TO INDIVIDUALS, WE CANNOT GUARANTEE YOUR SUCCESS OR INCOME LEVEL. NOR ARE WE RESPONSIBLE FOR ANY OF YOUR ACTIONS. MATERIALS IN THIS PAGE MAY CONTAIN INFORMATION THAT INCLUDES FORWARD-LOOKING STATEMENTS THAT GIVE OUR EXPECTATIONS OR FORECASTS OF FUTURE EVENTS. YOU CAN IDENTIFY THESE STATEMENTS BY THE FACT THAT THEY DO NOT RELATE STRICTLY TO HISTORICAL OR CURRENT FACTS. THEY USE WORDS SUCH AS ANTICIPATE, ESTIMATE, EXPECT, PROJECT, INTEND, PLAN, BELIEVE, AND OTHER WORDS AND TERMS OF SIMILAR MEANING IN CONNECTION WITH A DESCRIPTION OF POTENTIAL EARNINGS OR FINANCIAL PERFORMANCE. ANY AND ALL FORWARD LOOKING STATEMENTS HERE OR ON ANY OF OUR SALES MATERIAL ARE INTENDED TO EXPRESS OUR OPINION OF EARNINGS POTENTIAL. MANY FACTORS WILL BE IMPORTANT IN DETERMINING YOUR ACTUAL RESULTS AND NO GUARANTEES ARE MADE THAT YOU WILL ACHIEVE RESULTS SIMILAR TO OURS OR ANYBODY ELSE'S, IN FACT NO GUARANTEES ARE MADE THAT YOU WILL ACHIEVE ANY RESULTS FROM OUR IDEAS AND TECHNIQUES IN OUR MATERIAL.
Software Disclaimer: The software is distributed 'as is' and with no warranties of any kind, whether express or implied, including and without limitation, any warranty of merchantability or fitness for a particular purpose. The user (you) must assume the entire risk of using the software. In no event shall any individual, company or organization involved in any way in the development, sale or distribution of this software be liable for any damages whatsoever relating to the use, misuse, or inability to use this software (including, without limitation, damages for loss of profits, business interruption, loss of information, or any other loss).'