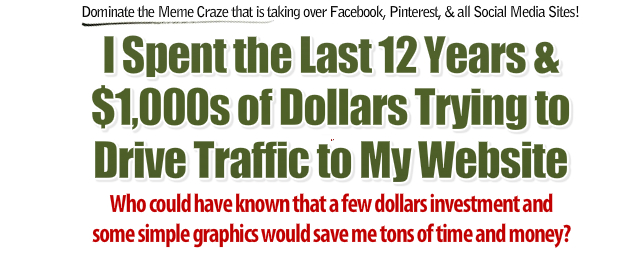 Dear Internet Entrepreneur,
One of the most difficult things to accomplish is driving traffic to your website. You know as well as I do that you can have the greatest product in the world, but if people don't know about it, it might as well have never been invented.
I don't know about you, but I'm sick of spending big bucks on advertising, list-building, and all the rest, when I don't ever see a good return on my investment from any of those things.
But what if I told you that I've discovered a way to not only get traffic to your website, but found an unbelievably simple way to get others to literally beg to help you do it, and all for FREE!?!
Introducing: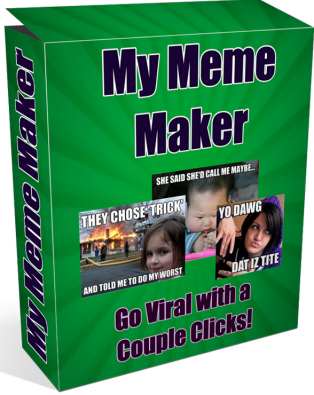 We've all seen Memes! In fact, it is impossible to spend any time on the internet without seeing them over and over again.
Memes are simple graphics, usually with a short funny or informative message, that have gone completely viral on Facebook, Pinterest, and many other Social Networking sites.
Many of these Memes include a website link. Why do you think they do that? Because it drives HUGE traffic to their websites, and many of them have monetized those sites with products, resources, or pay-per-click advertising.
Making a Meme is simple. Anyone with a graphics program can do it. But what if I showed you how to automate the process, so that you could make 100s of Memes that can drive traffic to your website in a matter of minutes?
Please watch the video below to see what I'm talking about!
Benefits of Using My Meme Maker Software

Extremely Viral -- Upload to Social Media Sites & Watch it Explode!
Easy to Make -- Load the graphic, enter the text, & click a button!
Engaging -- Draws people in without them realizing it's an ad!
Inexpensive -- This is THE most low-cost viral tool ever created!
There's really not a lot more for me to say. I think this great resource speaks for itself. So I imagine the big questions you're asking right now are:
*How Much is this going to cost?
*How fast can I get it in my hands?
Well, I'm about to surprise you -- the cost is only $17.00, and you can download this software IMMEDIATELY after you order (even if it's 2:00 in the morning!).
SPECIAL FOR TODAY ONLY!
Click On The Order Button Below And You Only Pay $7.00.
Yes, $7.00, Today Only!
Are you ready? Just Click the button below!

SOFTWARE IS FOR MICROSOFT WINDOWS ONLY
| | |
| --- | --- |
| | If you, for any reason, decide that you are not completely and totally satisfied with My Meme Maker, just e-mail me within the first 30 days and I will refund your investment in this software. I'm pretty sure I won't be hearing from you, but if I do, you'll be receiving a refund right away! |
To Your Success,
Ken Sar
Disclaimer | Terms | Privacy | Contact