ATTENTION: WordPress website owners in search of more engagement....
"Easily Create Nearly Irresistible Calls to Action, Using the Same Techniques Top Marketers Use to Drive Sales and Grow Their Mailing Lists!"


From: Ken Sar
Re: Stop letting your buyers slip away...
Dear Fellow Marketer,
You've followed all the "rules." Your landing pages are focused, targeted, and offer no distractions such as menu bars or opt-in forms. That's great for sales, but what about those who don't buy?
What are you offering them?
Like most people, you've likely experienced - and possibly been annoyed by - an exit pop-up or two. You may have even considered using such an offer on your page. The trouble is, most exit pop-ups are:
Ugly gray "dialog" boxes that do more to turn a reader off than encourage them to take action.
Annoying in their aggressiveness.
Difficult to configure.
Expensive to purchase - the most popular option will run you nearly $100!
Why Marketers Love Exit Pop-Ups
Despite their downfalls, exit pop-ups can be a powerful tool in your quest for reader engagement, more sales and a larger mailing list. Here's why.
Whenever a reader leaves your page - whether it be a sales page, blog post or simply your about me page - the chance she will return later is slim. The Internet is a vast marketplace, and with many thousands of other choices and the constant bombardment of new information, it's easy for a reader to forget what brought her to you in the first place.
That means that even if your content or offer is spectacular, unless you capture her attention on the first visit, you'll likely never see her again.
That's why exit pop-ups are so popular. If your reader is already on her way to the next website, why not make her a last-chance offer? It may be the one thing that can prevent the loss of that sale!
Creating Exit Pop-Ups that Work
For an exit pop-up to be effective, it has to stand out from the crowd. We've all seen (and been annoyed by) those intrusive (dare we say spammy) pop-ups that prevent you from leaving the page.
It's time for a refreshing look at what exit pop-ups can do for your site's engagement and conversions.
Introducing the
Most Flexible Exit Pop-Up
You've Ever Seen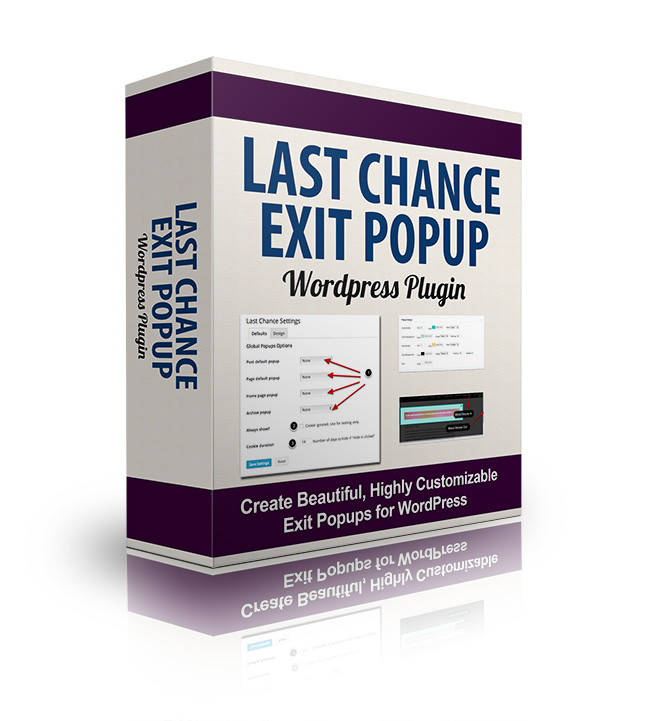 Here's the trouble with most solutions on the market today: They do one thing. If that one thing (making a lower priced offer to a reader who is about to leave) is what you want, then that's fine.
But what if you want to
Point readers to related content they might like instead.
Offer a chance to get on your mailing or waiting list.
Give them a coupon for a related product.
Remind them of a sale in a different category of product.
Ask for feedback with a survey link.
Offer a help desk to answer questions.
None of these things are options with your standard exit pop-up plugin, but with "Last Chance Exit PopUp" the possibilities are nearly endless. With this easy-to-use plugin, you get:
One-click installation. No huge files to upload via FTP. Just upload via your WordPress dashboard in seconds.
Simple interface for instant usability.
Ability to set a default, site-wide popup.
Option to override default on any page with a custom popup exactly matched to your content.
Endless styling possibilities with unlimited color, border, and background options.
Completely flexible editing screen allows you to include opt-in forms, images, stylized text and more.
Set default popups for home page, blog pages, and archive pages so your offer always makes sense.
Variety of built-in background images to match any blog style.
Familiar post editing screen means no complicated software to learn You'll be creating beautiful popups in minutes.
Custom cookie settings allow you to present your popups on the schedule you set.
Testing setting lets you easily see your popups from a visitor point of view.
Select different popups for individual pages and posts, right from your blog editing screen.
Turn popups off on specific pages with the click of a button.
Create an unlimited number of popups for a wide variety of offers.
Add video to your popups for even better engagement.
Stand Out From The Crowd
It's more and more difficult to engage with readers today. There's so much competition that if you can't capture them when they are about to leave (and they will leave) your site, there's virtually no hope they'll return.
Last Chance Exit Pop Up provides you the unique opportunity to present readers with exactly what they need, just when they need it. Whether it's an invitation to join your mailing list or a special coupon code they can use right away, Last Chance Exit Pop Up is the perfect solution. So easy, so flexible, and so fast - you'll wonder why you ever struggled with other pop up forms before.
Even better, your purchase is backed by our....
Your purchase is absolutely risk free. Try the
Last Chance Exit Pop Up Plugin
for 30 days, and if you're not satisfied just send me an email and I'll send you a refund right away. So there's absolutely no risk on your part.
All the risk is on me.
Exit Pop Ups Made Easy
Don't struggle with complicated exit popups that annoy your visitors and drive them away. Instead, give them just what they need with the truly flexible Last Chance Exit Pop Up Plugin for WordPress.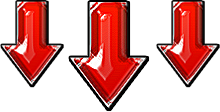 Get Instant Access Now

Yes! My readers need this! I can't wait to offer them more ways to explore my site and take advantage of my offers.

I understand I'll get:

The easy-to-install WordPress plugin package with complete instructions.
Simple to use interface so I can create my first exit pop up in minutes.
Unlimited options for color, style and placement, so my readers get just what they're looking for.
DEVELOPER LICENSE INCLUDED For a Limited Time!

And since it's backed by your money-back guarantee, I know my purchase is completely risk free!

Only $ 9.97
Stop letting readers leave your page without so much as a glance back. Take advantage of the opportunity to give them one "last chance" to see what you have to offer - whether a related blog post or video, a spectacular coupon, or even a chance to connect on Facebook. With Last Chance Exit Pop Up Plugin for WordPress, the possibilities truly are endless.
Regards,
Ken Sar
P.S. It's increasingly difficult to engage with your readers. Sidebar ads won't do it, end-of-post calls to action are failing, and even fast-acting pop ups are falling on blind eyes. But exit pop ups offer a chance at real conversions, when done right. Start capturing your readers' attention today.
P.P.S. Remember, there's no risk to you with our 100% money-back guarantee.