ATTENTION: WordPress website owners who need more reader interaction....
"Finally! A Fast & Easy Way To Encourage Social Sharing, Increase Reader Engagement, And Create A Beautiful Blog!"


From: Ken Sar
Re: No design skills? No problem!
Dear Fellow Website Owner,
How many times have you heard that "Content is king"? It's a pretty common statement, but the truth is, content isn't as powerful as it once was.
Sure, it used to be king, back in the early days of the Internet when everyone was on dial up and text - which loaded fast - was the only thing we could get.
Today, though, it's a whole new world. Connections are fast, attention spans are short, and your readers are demanding more than just words. They want videos and audio and lots and lots of pictures.
Take a look at the most popular blogs in any market and you'll see what I mean.
The Importance of Images on Your Blog
Aside from offering your readers new and engaging ways to consume your content by providing video and audio options, images are increasingly becoming "must have" items for every blog post. Here's why:
Images "break up" long passages of text and give your readers a place to stop and rest before continuing.
Images help get your point across in new, interesting ways.
Images are the currency of social media. Facebook posts with an image have better engagement, Twitter now allows you to include images, and Pinterest and Instagram are all about the image - no text at all.
In fact, the point about Pinterest should be enough to get you in the habit of using "pinnable" images in every blog post you write. It really doesn't matter what market you're in or even if you're a Pinterest user yourself. The fact is, people reading your blog are pinning your articles for future reading, and their followers are getting their very first introduction to your blog via Pinterest.
That alone makes creating and using "social friendly" images rank pretty high on your must-do list, if you want to continue to grow your audience.
The trouble is...
Social Friendly Blog Post Images Can Be Time Consuming And Costly To Produce
If you've ever tried to learn your way around the Photoshop (or GIMP) interface, than you know just how frustrating it can be. All you want is a simple image with some text, and you've got to:
Launch a huge resource hog of a program (that you probably paid a small fortune for).
Create a complex system of layers each containing a different element.
Wade through hundreds of fonts, fuss with points and pixels and alignment and color.
Save your image (and don't forget where you put it!)
Upload it to your post and be sure it's aligned properly there, too.
That's a lot of hassle for one image. And multiply that by several images per post and several posts per week, and you've created a full-time job for yourself!
Of course, you could simply outsource it all. But how much are you willing to pay to have a virtual assistant create images for you? At $25 or $30 per hour, you'll want to be sure you'll have a solid return on this investment before you commit.
You might also simply use one of the free image editors available to you. They're not as powerful as Photoshop, but they do have the advantage of being easier to use. But you will still have to save your image, upload it to your post, insert and align it correctly - all things that take time that as busy bloggers, we just don't have.
Ready to give up on images? Don't be. There's a better solution.
Introducing Instant Social Image
Never again will you have to pay extravagant prices for high-end software, struggle to learn basic functions, or wait for someone else to do the job. This clever WordPress plugin makes it easy to create and use beautiful social friendly images on any blog or website.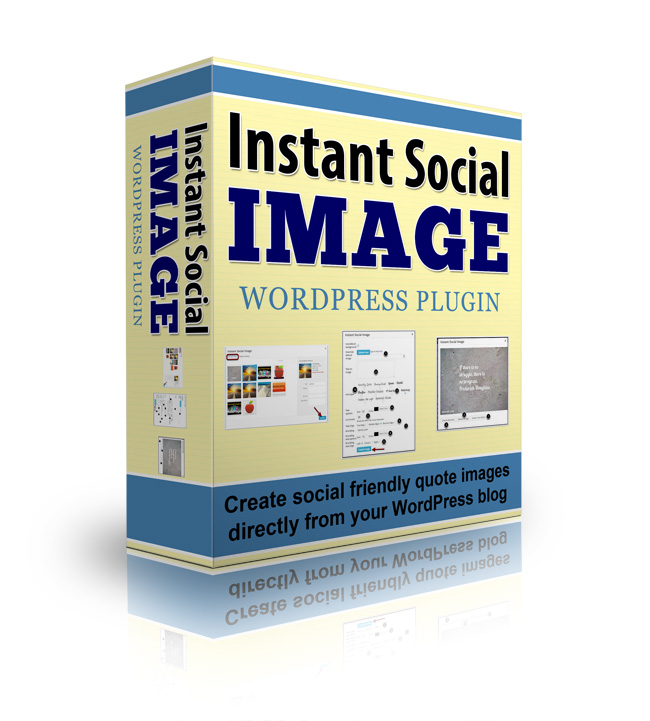 Instant Social Image offers an incredibly simple and fast way for you to create stunning, sharable images right from your WordPress dashboard. You'll enjoy...
One-click installation so you'll be up and running fast - no complex settings or arcane functions to learn.
Easy access within your post editor - no extra software to launch or websites to log into.
Built-in royalty free backgrounds so you can instantly create graphics on the fly.
Ability to upload your own background images for total control over the look and feel of your site.
10 font choices give your social friendly graphics the exact look you want.
Automatic uploading of finished images to both your post and your media folder, so you can use them again and again and you'll always know where they are.
Unlimited color choices to match the style of any blog.
Automatic branding with your blog name for better reach and influence.
Point and click text alignment - no more fiddling with cryptic controls.
Easy line-break controls let you place text exactly where you want it.
Independent controls for text and branding ensure your social images convey your message clearly while still maintaining your brand.
Instant previews to ensure your images looks right before it appears on your post.
Easy to use on both posts and pages.
In fact, once you install and start using Instant Social Image, you might find it works so well you'll never have to use those other solutions again! You can use Instant Social Image to create images for:
"Pull quotes" or snippets of text from your blog that are particularly meaningful or interesting.
Inspirational quotes designed to make your readers aim higher and dream bigger.
Post titles and by-lines - no more drab text titles needed.
Product images - perfect for an ecommerce or affiliate site.
Calls to action - attention-grabbing images are much more likely to be read and acted upon than a link or line of text.
Really, the possibilities are truly endless, and the results you'll see when you start including social-friendly images in your blog will shock you. Here's just some of the results you can expect to see when you use images consistently...
Increased sharing across all social networks.
More inbound links.
More traffic from Pinterest, Facebook, Twitter and others.
Better reader engagement.
Lower bounce rates.
Beautify Your Blog And
Grow Your Social Influence
You no longer have to have a degree in design and a PhD in Photoshop to create visually engaging and social friendly graphics for your blog. Instant Social Image - the WordPress plugin that creates beautiful graphics right inside your blog's dashboard - is easy to use and simple to install.
Without ever opening a photo editor or logging into a different website, you can add eye-catching images, quotes and inspirational messages to any blog post or page, all in less time that it takes to launch Photoshop.
No design skills? No problem. With point and click controls, Instant Social Image makes it easy to align text, try out different fonts, and play with color combinations until your image looks exactly the way you want it to.
But maybe the best thing about Instant Social Image is this...
Your purchase is absolutely risk free. Try Instant Social Image for 30 days, and if you're not satisfied just send me an email and I'll send you a refund right away. So there's absolutely no risk on your part. All the risk is on me.
You know the power of social friendly images. Start putting them to work on your website today.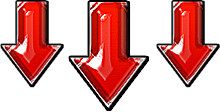 Get Instant Access Now

Yes! Send me this plugin! I know how much easier it will be to encourage sharing and linking when my posts and pages are visually attractive and have images designed for social media.

I understand I'll get:

The WordPress plugin with easy one-click installation.
4 built-in image backgrounds plus 10 beautiful fonts.
Easy-to-use image editor with point-and-click controls.
Endless color options to match any theme.
DEVELOPER LICENSE INCLUDED For a Limited Time!

It's just the thing my blog needs to be more socially friendly....

Only $ 9.97
P.S. Your readers have come to expect visually stunning blog posts, and up to now, you've needed some serious Photoshop skills (or a talented designer) to pull it off. Instant Social Image takes the struggle out of creating social friendly images for your blog.
P.P.S. Remember, your purchase is backed by my 100% money-back guarantee. If Instant Social Image doesn't perform exactly as I said it would, simply email me for a prompt and courteous refund.