"Hot New Software Gets More People to Your Website Without Any Extra Work Whatsoever. . . And You Can Have It Working for You in
Mere Minutes"
Build up that all important social media presence and get interested visitors to your website all while getting Google-loving back links to your site.
Dear Traffic Hungry Marketer,
If you're like me you are on an never ending quest to get more people to your website.
You know that this online marketing game is all about numbers and that the more people you get to your site the more success you'll have.
But there is the age old problem of how to get those people, particularly people who are interested in what you have to say and what you have to offer.
You've probably heard of all the ways to get people to your website and know that the vast majority take either a lot of time or a lot of money.
And... if you had a lot of those you wouldn't be struggling to make it online in the first place!
Here's One Great Way to
Get More Visitors to Your Website
One of the best ways to get visitors and high search engine rankings is to create good content and to get back links from other people's Web sites, particularly those fantastically popular "authority sites" like Twitter™ and Facebook™.
Twitter™ can be a powerful marketing tool and, done properly, it lets you build relationships with prospects which ultimately means more sales for you.
The only thing that you have to do is to form relationships using Twitter™ to get more followers.
The way to do that is to provide rich content to your followers at all times of the day or night!
Facebook™ is where it's at nowadays when it comes to social networking and building online relationships. It gives you an even better way than Twitter™ to get traffic and important, high value back links.
With almost 600,000,000 million people signed up with Facebook™ and, according to the latest Alexa rankings, 37.1% of all the people who use the Internet go to Facebook™ every day.
There are many ways to use Facebook™ as a marketing tool but one of the best, if not THE best, ways is to provide lots of good stuff that people (your prospects) will be interested in.
Now you could go to Twitter™ and Facebook™ all the time and make some Tweets and post to Facebook™.
That will get you some nice traffic and better search engine rankings but... it can take a lot of time.
Let Me Show You An Easier Way. . .
What if I could show you how to you can use one "stupid simple" system that would allow you to quickly and easily do your Tweets and Facebook™ posts?
Now, what if I told you that you could schedule those Tweets and posts days, weeks or even months ahead of time, freeing you from the need to continuously be going and making Tweets and posts?
To be honest, you can find something like this software elsewhere but every single one that I've seen is more complex to use and doesn't do one, really important, thing that this software does.
All the other software and services let you schedule Tweets or posts but you have to do them one post or tweet at a time... that is, you have to add it, select the date, put in the text, save, and go to the next one.
But, what I want to share with you today, will let you go in and, in one easy step, schedule as many tweets and post as you'd like. That recurring post scheduler alone makes this software so worth having!
Introducing...
Facebook & Twitter Poster!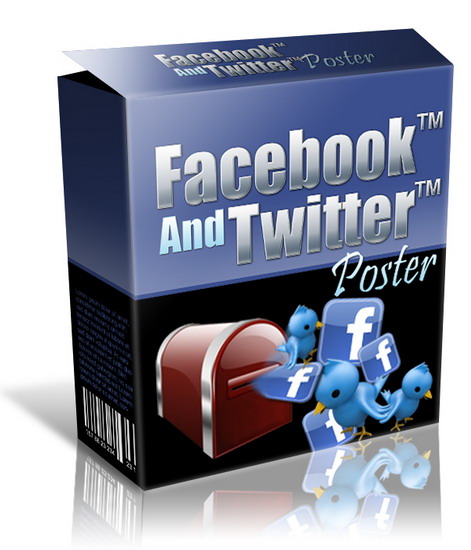 With FB Tweet Poster, you'll not only will you be saving time, effort and frustration but you'll be able to take that time and use it in better ways.
Maybe that's spending time with your kids or... getting a new product to sell or... even writing more content for the software to blast out to the Internet for you so you can get even more visitors and the "holy grail" of online marketers -- quality back links.
Here's what FB Tweet Poster will do for you, automatically, and with virtually with no work on your part:
Keep your friends and followers happy by provide more fresh information and news with the automatic posting capabilities.
Save time and aggravation and get more things done with fewer mistakes and miscues.
Leave the techie knowledge at the door -- there are no plug-ins to install and keep upgraded, in fact, no complex tasks at all.

Protect your links and commission payments with the built in link shortener and protector.

"Set it and Forget it" with the simple and easy scheduler. You can schedule Facebook™ updates and Twitter™ tweets, days, weeks and even months (or years!) ahead -- so you can spend one morning every month or three scheduling all your posts and not have to give it another thought until the time rolls around again.

Unlike anyone else, you don't have to schedule the posts and updates one at a time, just tell the software -- with only a few mouse clicks -- that you want them to go every Monday, Wednesday and Friday for the next 27 weeks and you're done.

You can design pretty much any schedule you want using the exclusive recurring post scheduler.

Know exactly which posts and Tweets are getting you the best results -- and when you know that then you'll know what you need to do more of!

And more...
Let me reiterate that... because its so sensational and powerful.
Once you spend a few minutes doing the simple setup, all you'll ever need to do again is schedule your Facebook™ and Twitter™ updates.
That really is all, the posts will be made exactly when you schedule them and your Facebook™ and Twitter™ accounts will get an immediate update -- 24 hours a day, 7 days a week, 52 weeks a year!
I Want to Get This in Your Hands. . .
So Here's My Deal. . .
How much time and money will it save you... let me conservatively say it will save you 10 minutes every time you make a post (I'm pretty sure it will save you more but I want to be really conservative).
If you post the minimum recommended number of times per week then you'll be posting once a day... so you'll save 70 minutes a week.
That means, in one year you'll conservatively save almost 61 hours -- 10 minutes a day times 365 days... over a week and a half of your life saved every single year! And time is the only resource you can never get back.
Now, say you earn just $5 per hour (less than the federally mandated minimum wage in the U.S.), then if you continue doing it all yourself manually instead of using the software it will cost you at least $304.17 a year NOT to use FB Tweet Poster.
That's way (WAY!) more than the $17.97 total investment you'll make for FB Tweet Poster... there's no additional costs, no monthly fees, nothing more.
When you think about it like that then it's hard to say no to this amazing deal.
My "No Worries" guarantee is that I want you to feel happy and even proud of your investment.

So, if anytime within the first 30 days (even on the 30th day), you're not absolutely overjoyed with what you receive then just let me know and I'll gladly give you 100% of your investment back.

And Have No Worries
I want you to feel happy and even proud of this investment and how it has helped you get more sales and better your life. So, if you're not absolutely overjoyed with what you receive just let me know and I'll gladly give you 100% of your investment back. It really is that simple :-) And you'll have a full 30 days to put the software through it paces and decide if it's as good as I've described it. If, at any time in those 30 days (even on the 30th day), you decide it's not for you then I'm happy to return your complete investment back to you. No questions asked. Fair enough?
Now, Your Success Is Up To You. . .
You can keep doing it the hard way and waste your precise time and money

OR...

You can try out FB Tweet Poster risk free for 30 days
and help make a success of things.

TAKE ADVANTAGE OF THIS SPECIAL $17.97 OFFER RIGHT NOW!

Get your own personal copy of FB Tweet Poster today for just $17.97 and you'll get my personal 30-day, 100% money back guarantee.

This is a completely digital product that'll you'll be able to download within minutes from now. You will not have to wait for DAYS before you finally receive a physical copy of FB Tweet Poster
To your Success,

Ken Sar
P.S. Don't forget that you can grab FB Tweet Poster today and stop doing all the wasted grunt work to update Twitter™ and Facebook™ AND remember that you're covered by my 30-day, no-questions-asked 100% money-back guarantee, so get it now while you're thinking about it.
Disclaimer | Terms | Privacy | Contact
Copyright© All rights reserved
---
EARNINGS DISCLAIMER
EVERY EFFORT HAS BEEN MADE TO ACCURATELY REPRESENT THIS PRODUCT AND ITS POTENTIAL. THERE IS NO GUARANTEE THAT YOU WILL EARN ANY MONEY USING THE TECHNIQUES AND IDEAS PROVIDED WITH THIS WEBSITE. EXAMPLES IN THIS PAGE ARE NOT TO BE INTERPRETED AS A PROMISE OR GUARANTEE OF EARNINGS. EARNING POTENTIAL IS ENTIRELY DEPENDENT ON THE PERSON USING THE INFORMATION INCLUDED TO THIS PAGE, THE IDEAS AND THE TECHNIQUES. WE DO NOT PURPORT THIS AS A GET RICH SCHEME. YOUR LEVEL OF SUCCESS IN ATTAINING THE RESULTS CLAIMED IN THIS PAGE DEPENDS ON THE TIME YOU DEVOTE TO THE IDEAS AND TECHNIQUES MENTIONED, YOUR FINANCES, KNOWLEDGE AND VARIOUS SKILLS. SINCE THESE FACTORS DIFFER ACCORDING TO INDIVIDUALS, WE CANNOT GUARANTEE YOUR SUCCESS OR INCOME LEVEL. NOR ARE WE RESPONSIBLE FOR ANY OF YOUR ACTIONS. MATERIALS IN THIS PAGE MAY CONTAIN INFORMATION THAT INCLUDES FORWARD-LOOKING STATEMENTS THAT GIVE OUR EXPECTATIONS OR FORECASTS OF FUTURE EVENTS. YOU CAN IDENTIFY THESE STATEMENTS BY THE FACT THAT THEY DO NOT RELATE STRICTLY TO HISTORICAL OR CURRENT FACTS. THEY USE WORDS SUCH AS ANTICIPATE, ESTIMATE, EXPECT, PROJECT, INTEND, PLAN, BELIEVE, AND OTHER WORDS AND TERMS OF SIMILAR MEANING IN CONNECTION WITH A DESCRIPTION OF POTENTIAL EARNINGS OR FINANCIAL PERFORMANCE. ANY AND ALL FORWARD LOOKING STATEMENTS HERE OR ON ANY OF OUR SALES MATERIAL ARE INTENDED TO EXPRESS OUR OPINION OF EARNINGS POTENTIAL. MANY FACTORS WILL BE IMPOTANT IN DETERMINING YOUR ACTUAL RESULTS AND NO GUARANTEES ARE MADE THAT YOU WILL ACHIEVE RESULTS SIMILAR TO OURS OR ANYBODY ELSE'S, IN FACT NO GUARANTEES ARE MADE THAT YOU WILL ACHIEVE ANY RESULTS FROM OUR IDEAS AND TECHNIQUES IN OUR MATERIAL.
Software Disclaimer: The software is distributed 'as is' and with no warranties of any kind, whether express or implied, including and without limitation, any warranty of merchantability or fitness for a particular purpose. The user (you) must assume the entire risk of using the software. In no event shall any individual, company or organization involved in any way in the development, sale or distribution of this software be liable for any damages whatsoever relating to the use, misuse, or inability to use this software (including, without limitation, damages for loss of profits, business interruption, loss of information, or any other loss).'