Time To Pimp Out Your facebook Page!
Use Our Instant iFrame FB Page Templates To Pimp Out Your Own Facebook Page, Or Hire Out Your Services To Others For Big Bucks!
You Need To Stand Out In 2011 On facebook, Here's How!
Having A Facebook Page Is A Must In 2011, now you can make your page stand out Like A PRO!

Are you using Facebook to generate traffic and followers to your brand?

If you are, you absolutly must make your FB page look professional.

The standard basic Facebook page will no longer do, if you want to give off a professional vibe.

Use our temaplates and training to learn how to make your FB page stand out in the crowd.
Does Facebook Marketing Really Work?
It Does IF you know how to utilize Facebook properly!

From: Ken Sar

Dear Friend,

Are you getting as much traffic as you need to keep your business not only afloat, but also growing and increasing in profit?
If not, you're not alone. There are literally millions of businesses out there struggling to get traffic to their site to keep sales up.
Sadly, most people don't know where to look for traffic generation strategies that work so they're running out of options.
This means traffic & sales are down.
With the constantly increasing levels of competition, it's also harder to get exposure using the more standard methods.
However, there's good news today...
You Can make facebook pay when it comes to promoting your web business With the new instant FB iFrame templates Package!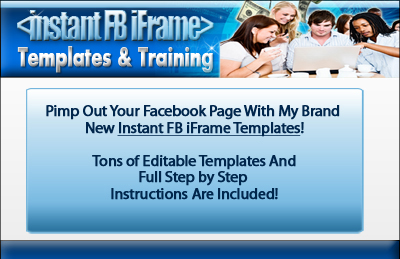 Instant FB iFrames is a new product we created that will give you everything you need to create eye catching FB business pages that get results!
Looking to use Facebook to promote your business?
This is exactly what you need to get setup quickly and effectively as possible.
Just grab a template, edit it to suit your needs and plug it in for use in your business and you're on your way to big time Facebook traffic!
You'll even get full training on how to use everything so you aren't left in the dark or wondering what to do next!
Facebook is quickly becoming the Mecca for businesses looking to increase traffic and get in on cutting edge promotional methods!
As the Internet becomes more fierce when it comes to getting traffic, Facebook is quickly becoming a viable option for increased business exposure.
Businesses are scrambling to get on Facebook and utilize this high trafficked web property to get their business and products in front of tons more people.
Facebook's social nature really makes getting your business on Facebook important as potential customers are on the site, live 24 hours a day.
Having your business in front of these provenly active people is the best way to get access to ready to buy customers.
Have you seen big companies advertising their Facebook or Twitter presence on their websites, in their television commercials, and in their print ads?
There's a big reason for that!
Facebook is a highly social place and businesses know this. Facebook is where your customers are so you need to be there too!
Unfortunately, Facebook Is
Loaded With Spammers!
Abuse of facebook is a common occurrence that only gets businesses in big trouble!
How many times have you seen spam on Facebook?
You can probably recall hundreds, if not thousands of instances where you've been spammed or seen spam on Facebook.
I'm talking about people or businesses who post blatant ads on your Facebook wall with no shame and no regard for your personal space.
You've also probably received messages from people spamming you about their new product or website. "Gee, thanks buddy!"
On top of that, there are other forms of spam such as chat spam, auto-group add spam, and tons of other Facebook spam.
Not only does this irritate you (and me), it doesn't get results for the business - it only creates enemies and tension with people who COULD have been your customers!
So how do you promote on Facebook?
The new facebook iFrame is now available to the General public! This means better promotion, more traffic & Higher conversions!
There has always been the standard Facebook Fan/Business page which allows you to create a page for your business.
Unfortunately, these pages really haven't looked all that great and don't offer you much flexibility when it comes to customization.
The good news is that Facebook has now launched the Facebook Page iFrame for maximum Facebook Page customization!
You might be wondering what a Facebook Page iFrame is (I did at one point), so allow me to explain what it is exactly...
The iFrame functionality actually allows you to embed a website and custom HTML code into your Facebook page!
That means that instead of just some basic text and image additions, you can now actually do all kinds custom work on your Facebook Page such as opt-in boxes, video, flash, cool page functions, etc.
Of course you're probably thinking "That sounds confusing and like a lot of work!" which would be accurate.
However, you can create high converting, eye catching, customer pulling Facebook Pages using the new iFrame functionality WITHOUT any technical knowledge at all with this...
Introducing The Instant FB iFrame
Templates Package WITH Training!
As we discussed previously, the new Facebook Page iFrame allows you to do all kinds of cool stuff and customizations to get more business.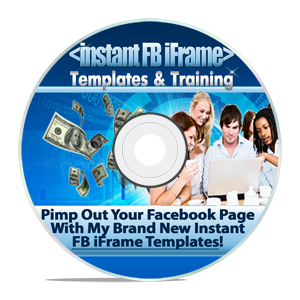 The Instant FB iFrame templates package gives you a TON of cool pages you can just drop into your Facebook Page.
If you can copy and paste as well as edit some basic text, you have all the skills necessary to use these templates.
Best of all, the package comes complete with training to show you how to use and customize these templates as quickly as possible without being a computer geek!
The Instant FB iFrame Templates package gives you the ability to have that flashy, shinny, and high converting Facebook page that gets results, just like the big guys!

The Instant FB iFrame templates & Training Package comes complete with everything you need to get setup with a high grade facebook page:

Could your business use more traffic, more leads,
and more sales?
With Instant fB Templates You can have all that!
There's no doubting that the Instant FB Template package is loaded with a ton of high quality templates. You get 14 templates so that you can test, change, and customize the look to exactly what's right for you and your business.
Not to mention the fact that you also get all the training to ensure you can use everything.
Most importantly, the Instant FB iFrame package is so affordable that you may feel like you're taking advantage of me.
Don't worry, I'm happy to cut you a deal and let you get the entire package for a mere $17.95 if you take action today!
Get a copy of the Instant FB iFrame Template & Training Package today so can start exploiting Facebook for traffic today!

Get Setup Fast, Guaranteed!

I have the ability to fairly accurately guess what people are thinking when it comes to business and technical stuff.
That's one of the reasons that I know you may have the objection "This sounds like it might be too complicated," which is a fair worry. This is new technology on Facebook, right?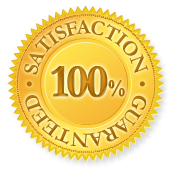 However, these templates are VERY easy to use AND we provide you with easy, step by step training to use them.
But to make sure that you know how easy they really are to use, I'm going to put my money where my mouth is.
Get your copy of the Instant FB iFrame package, check out the training, and put up a page. If you can't put up a page with in 24 hours, I don't want your money.
Just let me know it didn't work for you and I'll cheerfully refund your money.

Your instant download is waiting. Use the secure order button below.
Your Copy Of The Instant FB iFrame Package Is Waiting For You To Download! (2AM, 5AM, 11PM? It doesn't matter what time you order, your download is instant)
IMPORTANT NOTE: This product package is to teach you how to create and set up your iframe pages in Facebook and does not include Adobe Photoshop training.

Creating Facebook templates is a bit of an advanced process. Because of this we will assume that you already have some advanced skills such as PhotoShop to be able to edit the included Adobe Photoshop PSD files on your own.

Editing Photoshop PSD files is beyond the scope of this course, however you will need to be able to edit the Photoshop PSD files included in order to fully customize the included FB templates.

If you do not know how to edit Photoshop files then you will want to review some free Photoshop editing tutorials on YouTube.

There are thousands of free tutorials there.

Optionally you may cheaply outsource the editing of the Photoshop portion of your new Facebook iFrame project, just find a Photoshop worker on a site like www.Vworker.com and give that worker access to the included PSD files along with the new images you want placed into the PSD templates we have provided.
SIDE NOTE: It is not 100% Necessary to be able to use PhotoShop to make this package work for you. You can just as easily toss out our images instead of trying to edit them, and simply add your own images into the templates.
We just felt it was important to tell you about the optional Photoshop templates since we did include them, however editing these PSD files is not required to be able to make use of our "Templates and Training Manual"

Yes, I Want To setup my high converting facebook page using your Instant FB iFrame templates today!

Please Accept My Order Now




Order Instant FB iFrames Now!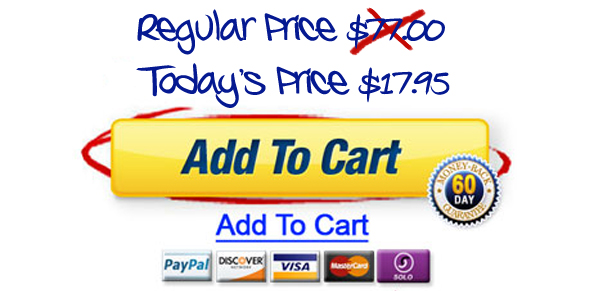 Grab Your Copy Of The instant FB iFrame package now and have your own high converting facebook page By This Time Tomorrow!
Getting started is easy. Order your copy and you'll be well on your way to a fabulous Facebook page today.
Sincerely,
Ken Sar
P. S. Ordering my powerful and proven template package is the smartest decision that you could ever make if you want to Pimp out your Pacebook page so you can get more traffic using Facebook!
Disclaimer | Terms | Privacy | Contact