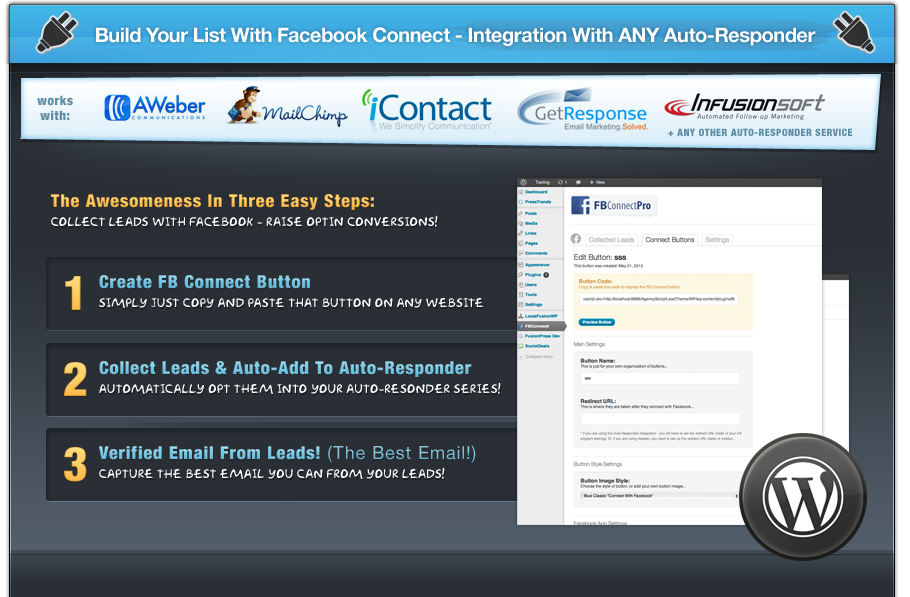 Watch An Overview Video
What Is Included In This Hot FB Connect WP Plugin:
WP Plugin
Easy to install & use Wordpress plugin. Get started right away, and start creating fb connect buttons...
Unlimited Buttons
There is no limit on how many buttons you can create. You can create 100's of buttons on one install...
Store Leads Inside Of WP
When you collect a lead with the FB connect button the plugin automatically stores that lead inside of Wordpress, so you can go back and see all the leads captured...
Edit Lead Information
Easily edit, update or delete any lead you have collected. On the dashboard you can see all your leads and edit their information...
Button Anayltics
You can find out how many times your button was viewed and how many leads have been collected on each lead...
One-Click Auto Responder Integration
You can have your leads be opted in automatically to ANY auto-responder service like aweber, icontact, or mailchimp!
Easy To Install
Just upload the zip file to your WP install, and your good to go! It's really that simple to get started...
Helpful Tutorial Guides
You will be able to access helpful guides on how to setup your AR services with the plugin, and how to setup Facebook Apps... Super helpful!
DEVELOPERS LICENSE
Yes, just for the low price of $9, you can also get Developers license! You can use this for as many projects as you want. Unlimited domains!
Best Wishes,
Ken Sar
Disclaimer | Terms | Privacy | Contact