Date: Monday Feb. 21, 2011
Dear WordPress Site Creator (or soon-to-be site creator),
Normal, everyday-average people are making money by having their own websites, and this takes place every day. Want to be one of them?
If you are brand new to website creation or even just a little familiar with blogs or online marketing, then you know how difficult it can be to create websites. Whether you are creating these websites to generate online income or simply to show off the vacation pictures, without easy to learn step-by-step guides, you can quickly become lost & frustrated to the point of just giving up!
By the time you have read the manuals and watched the free WordPress videos with the hope to figure out exactly how to set-up and manage a profitable website, others - possibly your competitors, have made hundreds of dollars and have moved way ahead of you in learning the newest tips & tricks
You'll end up playing a cruel game of catch-up with these fast-moving entrepreneurs. The more money they generate, the more they can put toward improving their own skills, and the further behind you get.
You need to take the bull by the horns and even up the playing field...
Right Now!
If you insist on learning WordPress website building and blogging the hard way - by searching for free videos, eBooks and tips - you will continue down the same path you are on now.
How is that working out for you anyway?
Kick start Your First WordPress 3.x Site NOW!
If you believe in investing in knowledge - specialized knowledge that is - then I have exactly what you are looking for.
When WordPress 3.x was released last year I began creating these video tutorials that you can download right now.
Currently the WP 3.x video library contains 40 easy to follow (and some say entertaining) WordPress 3.x video tutorials. I say 'currently' because I plan to make this the most comprehensive source of easy-to-learn video guides for WordPress 3.x website creation on the Internet!
Every one of these WordPress 3.x video guides were created with the absolute beginner in mind, so you'll never feel like you're listening to a rambling bunch of geek-speak. With these simple yet powerful step-by-step video instructions, some of what you will discover is:
| | |
| --- | --- |
| | How To Install Your WordPress 3.x Website |
| | How To Secure Your WordPress 3.x Website |
| | How To Add Streaming Video To Your WordPress 3.x Website |
| | How You Can Customize The Look Of Your WordPress 3.x Website |
And Much, Much More!
Introducing Easy WP 3.x Video Guides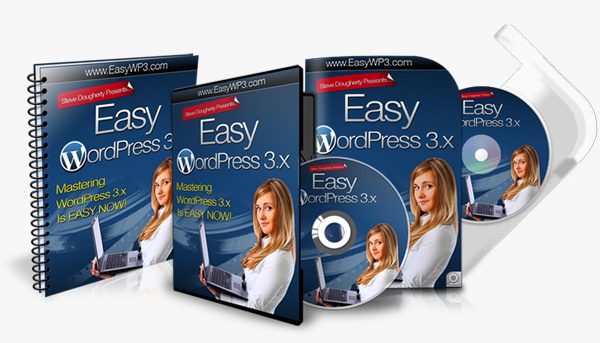 Here is a sampling of the videos in your Easy WP 3.x video course...
Begin Your Easy Website Building NOW
With WordPress 3.x And
Easy WP 3.x!
You may have tried other website building tutorials and found that they were difficult to follow or worse, they were incomplete which left you with more questions than answers.
Imagine having your very own personal instructor by your side SHOWING you each and every step from Pre-site planning all the way to Post-site monetization & maintenance.
If you are a total novice at WordPress & website building, this video course is for you.
If you are a seasoned online marketer but you are not yet familiar with version 3.x of WordPress, this video course is for you.
With Your Easy WP 3.x Video Guides
You Will Learn...
| | |
| --- | --- |
| | Which plugins are used by the Top Marketers as well as how to install & configure them for their maximum potential. |
| | How to maintain your WordPress 3.x web sites so they will operate hassle-free! |
| | How to optimize your WordPress 3.x sites – A Well Oiled Machine Runs Best! |
| | Many money making tips & techniques |
| | Several tricks that will have seasoned bloggers wondering "how did you do that!" |
| | And most importantly, various ways to promote & drive web traffic to your WordPress 3.x web site! |
And There's More…
Say yes to this Easy WP 3.x offer and receive these additional bonus products that you can download instantly!
| | |
| --- | --- |
| 10 Niches Ready Made WP Themes | Adsense Ready Theme |
| Forex Theme Green | Top Secret Theme |
| Super Adsense | Janissary One Page Sales Theme |
Okay..So How Much Is This In-Depth
WordPress 3.X Video Course Going To Cost?
When you take action right now, your Easy WP 3.x video course will be available for instant access so no waiting to begin building your WordPress 3.x Websites!
For a one-time investment of $17
You can begin building your blogging business RIGHT NOW!
Plus I'm going to remove any risk out of the equation with my..
30 Day No-Questions Asked Money Back Guarantee
We're completely confident that you'll be satisfied with the Easy WP 3.x video guides.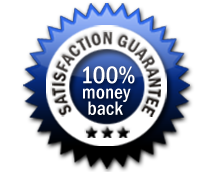 However, if you're still not satisfied with your purchase of the Easy WP 3.x video guides for any reason whatsoever, you can contact us anytime within 30 days of your purchase and we'll refund everything you've paid.
It's really that simple, because we want to make this a no-brainer for you and take away all the risk.
So essentially, you have a 30-day "trial" to see for yourself the quality of the information we reveal in the Easy WP 3.x video guides. It's completely risk-free for you and you have nothing to lose & everything to gain, so...
Order Now!

Attention Resellers: If you want to resell this product, you can only get your resale right license from the source here....
Sincerely,
Ken Sar
P.S. Remember your purchase of the Easy WP 3.x Video Tutorials are covered by my 100% money back guarantee - so you risk nothing if the videos do not live up to your expectations.
P.P.S. Be sure and grab your Easy WP 3.x Video Series NOW before I raise the cost because of all the additional videos I am adding to the original 32!! - CURRENTLY UP TO VIDEO 40 - Get Yours NOW & Never Pay Another Penny!