ATTENTION: WordPress website owners who need to attract more attention to sales and bonus pages...
"How to Put Human Psychology to Work for You to Gain More Interest and Make More Sales - All With One Simple Trick"
You've seen them everywhere, but until now, creating a sense of urgency on your sales page was cost prohibitive for most site owners....



From: Ken Sar
Re: WordPress Countdown Timer
Dear Website Owner,
If you've ever purchased something that was on sale or seen a big launch of a new product online, then you know the power of scarcity. Tell someone they cannot have something and suddenly it's the hottest thing on the market.
That's why you'll see so many online marketers using scarcity tactics such as limited availability and time-sensitive pricing. In fact, it's not unusual to see a product or program for sale at a fraction of the future cost during a launch phase.
That's because...
Urgency Sells
All you have to do is take one look at retail superstores to know that.
Clearance prices good until Saturday only! While supplies last! Sale ends this Friday!
These tactics work because it's our natural tendency to procrastinate. We want to think about it. We want to look at other options. We want to watch another episode of Desperate Housewives. Then we'll decide.
But when faced with a ticking clock (quite literally), procrastination goes out the window. Decisions (and purchases) are made.
You know this works - now it's just the implementation that's the issue. And for many small business owners, it's a huge issue indeed.
The Hunt for a Simple Solution
If you've looked at any of the available solutions for creating a countdown timer, you've likely been left feeling overwhelmed and wondering if it's really worth the cost.
You could...
Buy an expensive plugin - Sure it does all kinds of neat tricks, but who needs all those bells and whistles when all you really need is a simple countdown clock?
Install a new theme - Now you not only have to shell out big bucks for a premium theme, but you also have to redesign your entire website. Yuck!
Code your own - Unless you enjoy digging into php and javascript, or want to pay big bucks to someone who does, this is hardly an option, but many site owners are forced to resort to this because no other plugin fits the bill.
Most website owners simply give up at this point, thinking that a countdown timer - and all the benefits it brings - simply isn't for them. But the truth is, this powerful little tool is perfect for nearly anyone who owns or manages a WordPress site.
Who Can Use the
WordPress Countdown Timer?
Bloggers - If you've ever hosted a contest, offered a bonus, or created an opt-in gift, then you can increase your engagement with a well-placed countdown timer.
Information marketers - Do you sell ebooks, videos, or membership sites? A countdown timer to announce special pricing can help drive sales.
Event planners - Whether your hosting a virtual or live event, a countdown timer will instantly let readers know when your event begins.
Deal and coupon site owners - Readers will know at a glance when your advertised deals end.
Holiday shopping sites - How many days remain until Christmas? Readers will be reminded to grab that hot new toy now, before it's too late.
As you can see - any site that has time-sensitive information can make good use of a well-placed countdown timer. How you use it is limited only by your imagination.
Perhaps the best thing about this plugin though, is the...
Quick and Easy Setup for
Grabbing Attention Fast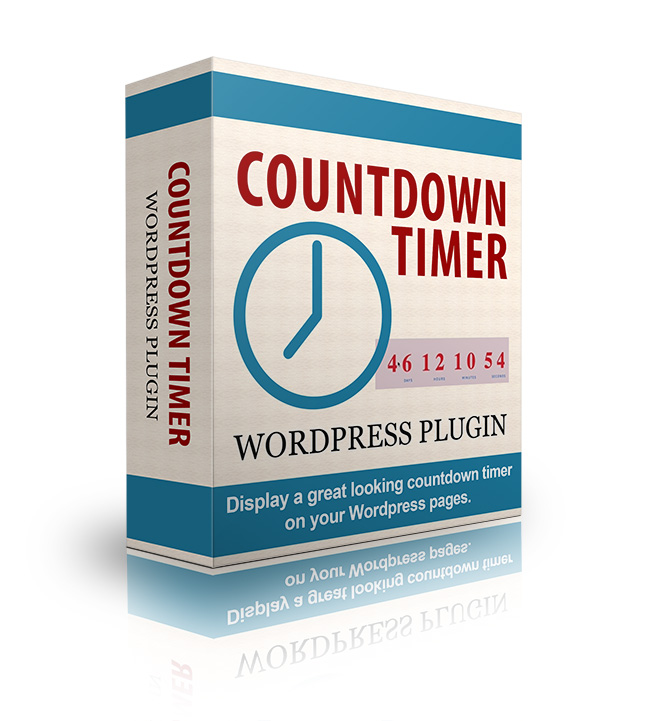 Unlike some other countdown timer solutions, this plugin makes it easy for you to add a compelling timer to your sales and download pages and contest entry forms. Because it's a WordPress plugin, all it takes to install it is:
Upload the zip file right from your WordPress dashboard.
Activate the plugin.
Choose your theme and colors (or leave the default).
That's it! You're now ready to add your countdown timer to any post or page.
When you do, you'll find a variety of options to help your timer fit any style of page or subject matter:
Countdown number of days or to a specific date.
Show a custom message when your timer expires.
Automatically remove timer when your promotion ends.
Customize the display to include (or not) days, weeks, hours, or minutes.
Light or dark theme to match any website.
Advanced options for even more customization.
In fact, with a little CSS skill, you can easily make the WordPress Countdown Timer look and act exactly the way you like. Because its made for ease of use, the WordPress Countdown Timer comes with its own custom CSS file, which is easily accessible from the plugin options page.
Here you can customize everything from the color of the numbers to the fonts used to the size of the timer. Easily make your countdown timer as visible or unobtrusive as you prefer!
Compel Readers to Take Action NOW!
Put an end to procrastination and improve your conversion rates with a well-placed timer that lets readers know exactly when your offer ends. Knowing they have only a few hours (or minutes) remaining will not only encourage them to make quicker decisions, it will prevent them from simply bookmarking your site for later - because we all know later never comes.
And with all the distractions on the Internet today, it's just not enough to mention the limited-time component of your offer. A bold, animated countdown timer lets visitors know in an instant that they need to pay attention because this offer won't last. No need to read the fine print or study the copy for a date because everything they need to know is right there in an easy-to-read and understand format.
But if you don't find the countdown timer works to engage visitors in any way, you'll be glad to know it's backed by my...
Your purchase is absolutely risk free. Try the WordPress Countdown Timer for 30 days, and if you're not satisfied just send me an email and I'll send you a refund right away. So there's absolutely no risk on your part. All the risk is on me.
Grab your copy of the WordPress Countdown Timer today, and start improving your conversions almost instantly!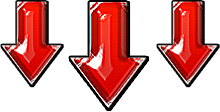 Instant Download!

Yes! I need this handy plugin to compel my readers to take action!

I understand I'll get:

The easy-to-install WordPress plugin.
Fully customizable timer graphic, including two themes, endless color choices, and even a CSS editor for total control.
Super easy placement on pages or posts with the one-click short-code generator, allowing me to put the timer exactly where it will have the greatest impact.

PLUS, I know it's backed by a 100% money-back guarantee....

All for just $9.97. Developer License Included
P.S. The WordPress Countdown Timer works on both pages and posts, so you can use it anywhere you need to encourage readers to take action - sales pages, download pages, and even contest entry pages!
P.P.S. The WordPress Countdown Timer comes with my unconditional money-back guarantee. If you find it does not do everything I said it does, simply email for a full and courteous refund.