Dear Friend...
Having great Search Engine Optimized content is key in today's highly competitive market. With super affiliates churning out page after page of super review content, its hard to get a look in, let alone make a few bucks for highly searched terms.
With the ever growing popularity of the Download Site, ClickBank offer thousands of products across many categories and pays out affiliates every month like clockwork. You could now be one of those people who get paid each month just by setting up review sites comparing products with one another in a niche.
Its easier than you think when you can just open up some software and click a few buttons, enter some text and links and produce a visually appealing, Search Engine Optimized web site!
CLICK PLAY ON THE VIDEO BELOW TO LEARN MORE!
Its Hard to Create Review Sites with Manual Coding
Especially if you Do not Know HTML or PHP
As you can imagine, its hard to find a format that works and delivers time and again and you can put in hours, weeks, even months of sweat and tears learning how to compile a site, and then begin adding reviews of all the products for your niche.
You could sit down at your computer and piece together a template set up in something like Dreamweaver which you can then edit everytime you do a new review, but there are going to be parts that you miss, not to mention the fact you need to edit layouts each and everytime you want a new review page done.
Imagine setting up a weight loss review web site for yourself from scratch? You have to think of so many things, when all you should be focused on is picking some products to review and uploading the site to your servers.
You could spend hours upon hours just tweaking pages and remembering to include all the points to put out a good looking SEO relevant review page for your website.
There Has to be a Better, Easier Way, Surely?
You are in luck! You can put away the HTML Editing software and endless checklists to remind you to include each and every step needed to create your optimzed review sites for ClickBank.
Introducing the ClickBank Review Site Creator Software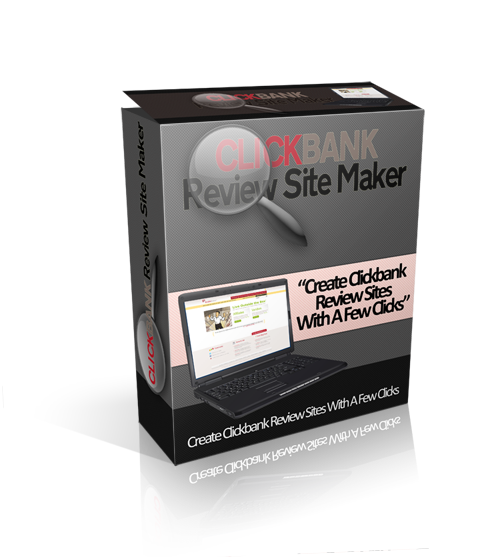 CLICK HERE TO SEE THE DEMO SITE WE CREATED USING THIS SOFTWARE
Easy to install - you don't even need to log in at some site each time you need something, you just open up your software and click your way through the menus to create the perfect review page.
Step by Step guidance all the way - You will never forget a step as the software walks you through each stage and will not let you move on until you complete the step at hand. This ensure the same good quality review results time and time again.
If you want to include images, you can easily use free software like Paint.net or SumoPaint to create headers and footers etc. In our demo we used SumoPaint and created something in under 3 minutes. Its not amazing, but use a little more time and imagination and who knows what you could create for your sites. Remember, its the content that counts, simple but effective Header images work wonders!
Grab a niche, enter the score set up, then begin adding the names of the products you "reviewed" and an image and final score information. Repeat this for your Top 3, then add smaller links for the final 2 products and hit go. The software will spit out your fully functioning web site in moments that you can just upload and go! It really is THAT SIMPLE to use!
DOWNLOAD & BEGIN USING THIS SOFTWARE
IN THE NEXT FIVE MINUTES
For Only $ 12.97 (Personal Use Only)
Or $37 With Resale Right... Click Here For Details...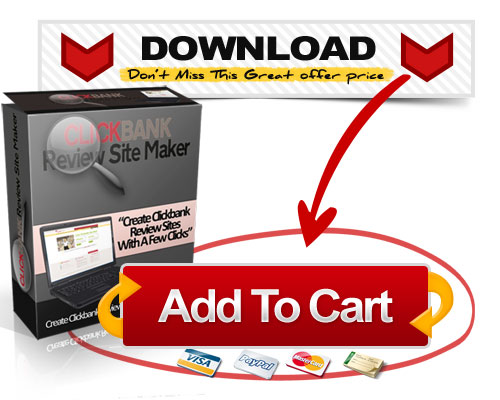 The video at the top of the page just shows it all. If you have not watched it yet, go take a look, it shows that you can make a review with ease. We made our site from start to finish in under 20 minutes, and that INCLUDED making the header image and grabbing product images too!
The awesome thing about this software is you can use it to create site after site of reviews for products on ClickBank then just drive the traffic to your review site to build more and more sales over time. You could even cross promote affiliate sites if you wanted to!
With thousands of products available to purchase & Download on ClickBank, you can be sure to find a category that suits you and begin building your own review content sites the ClickBank Review Site Creator Software.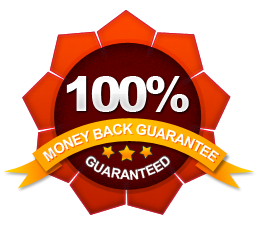 As Always, I offer my 100% Money Back Guarantee
If you are not Completely Satisfied, just Get in Touch and I will Refund
The Purchase to your in Full, no Quibbles. Its a GREAT PRODUCT
Start Making Commissions from a The Highly Popular ClickBank Site
BUY NOW
Regards
Ken Sar
PS: This software is ultra simple to use and you get a video guide that walks you through the whole set up process in case you need some help.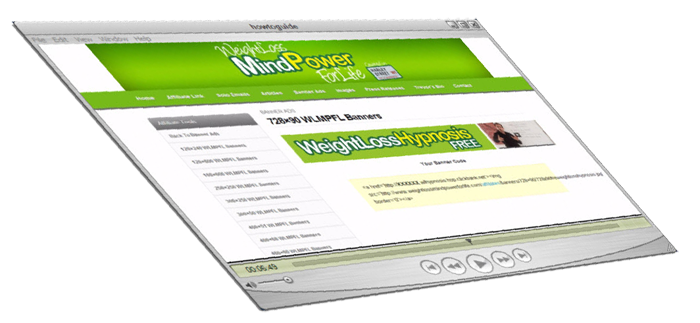 Look No More!
You Can Get It Here For Just $ 37.00 .
You will get complete salespage and ready to go clickbank affiliate page with banners. You can sell this software for $12.97 or more. Here is the complete terms for the resale right of this product.
Resale Right License For Clickbank Review Site Creator Software:
[YES] Can be sold for a suggested price of $17, minimum $12.97
[YES] Can sell personal use license to this product only
[YES] Can be used for personal use
[YES] Can flip the site you created using this software

[NO] Can be given away for free or as a bonus
[NO] Can be bundle or package with other products
[NO] Can be added to Free or Paid membership sites
[NO] Can be offered through auction sites
[NO] Can sell Resale Rights, Master Resale Rights or PLR
Please do not purchase resale right to this product/software if you don't agree with the terms above. If you agree, click on the order button below to get it now for $ 37.00 .
Clickbank Review Site Creator
With Resale Rights $ 37.00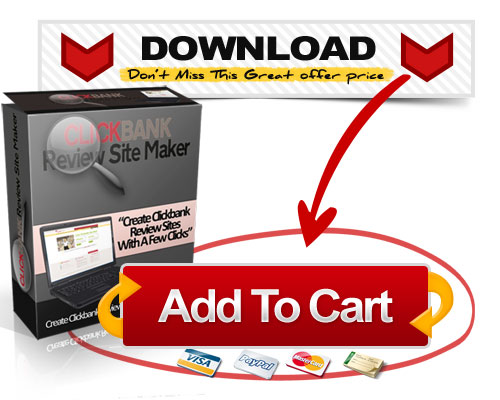 ClickBank is a registered trademark of Keynetics Inc., a Delaware corporation. IMCHECKOUT.COM is not affiliated with Keynetics Inc. in any way, nor does Keynetics Inc. sponsor or approve this product - Clickbank Review Site Maker. Keynetics Inc. expresses no opinion as to the correctness of any of the statements made on this Web page. No portion of this site may be reproduced in any manner whatsoever without the prior written consent.
Disclaimer | Terms | Privacy | Contact