Dear Affiliate Marketer,




Have you secretly imagined your

affiliate income doubling, tripling or even quadrupling

? Would you like to enter or expand in

a niche that is always in demand

? If you answered yes to these questions, then I have great news for you.

I am pleased to announce my latest

turnkey website

that could catapult your income by leaps and bounds. You no longer have to rely on just one or a few products in a niche to make you money. And you certainly don't have to live on nickels and dimes from AdSense. You can

make real money

with

your own large online store

.





I n t r o d u c i n g ...




Exquisite Baby Clothing
Datafeed Store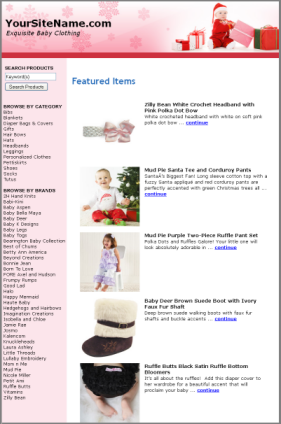 Click On The Image Above or CLICK HERE To See The Demo Store


Your new store includes over 1,000 exquisite baby clothing products on your own website. No scraping or pulling data from other websites. This baby is 100% your site!


Picture your visitors clicking, searching and exploring product after product. Then they find just what they had in mind. They click the details page and the 'Add To Cart' button that hides your affiliate link and they're wisked off to the merchant's product page to add to their cart.

Meanwhile, your 90-Day Affiliate Tracking is automatically set by ShareASale. YES, YOU NEED TO HAVE SHAREASALE AFFILIATE ACCOUNT. No worry though, you do include the instruction on applying for a ShareASale account.


In fact, your Exquisite Baby Clothing store includes...




Powerful Features...

Easy navigation

Clean, pleasant design

Home page displays random products for dynamic appearance
Two header graphics change automatically, one Christmas, one regular


You choose how many products displayed on product results pages



Add 2 Cart links hide your affiliate ID
Increased web traffic with Social Bookmarking on every page

Free

Quick Marketing Guide

Free

Installation Manual
Fully automated web site
No datafeed programming knowledge needed
If you can upload a file, you can install this site!

Just download, add your affiliate ID's, create a database, upload and promote



Automatic Income...




But don't take my word for it. Check out the demo now and then grab your own copy for only $67.
Minimum Requirements...

* Unzipping software and know how to use it

* Web hosting account for PHP 4.x -

with mySQL database



*

Affiliate account with ShareASale



* Ability to edit a config file using NotePad or other text editor

* Experience uploading files via FTP and web-based admin panel

* Instruction manual for CPanel only

NOTE: We do have an installation service available for those who need it.
Order Now!

Only $67


Wait...
First 50 Customers Special!
Be One Of The First 50 Customers, And You Only Pay $17.95!
Click On The Button Below To Buy Now!
Currently, There Are Only 14 Left At $17.95
PLUS
You will also get Master Resale Right As a Bonus too
Master Resale Right License Summary...

* [YES] Can sell the product to end users, Minimum $17.95

* [YES] Can be re-sold with resell rights

* [YES] Can be re-sold with master resell rights

* [YES] Can be packaged with other products

* [YES] Can be offered as a bonus

* [YES] Can be offered through auction sites

* [NO] Can be added to all membership sites

* [NO] Can be given away

To Your Profits,
Ken Sar
PS. Don't let this special offer pass you by. Make sure to grab it NOW!

Disclaimer | Terms | Privacy | Contact