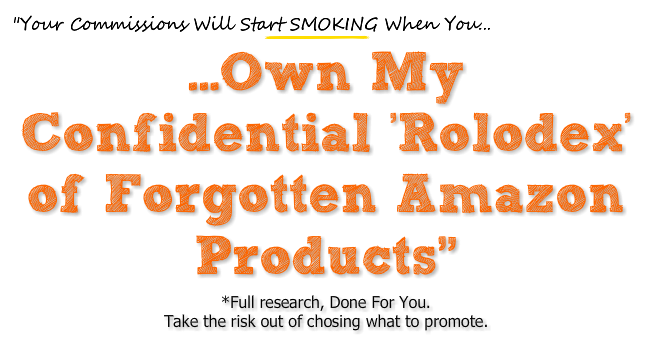 Dear Amazon Marketer,

If you'd like an easy way to INCREASE your Amazon check this month... or...

if you're still waiting for your chance to break into Amazon in a big way...

this will be the most important thing you read today.


Are you getting a little sick of it?

Ever built an affiliate site only to find out (too late!) that no one is interested in what you're selling?

Ever spend your day combing through products... trying to find the perfect combination of big commissions, good reviews, and high search volumes?



I may have a solution...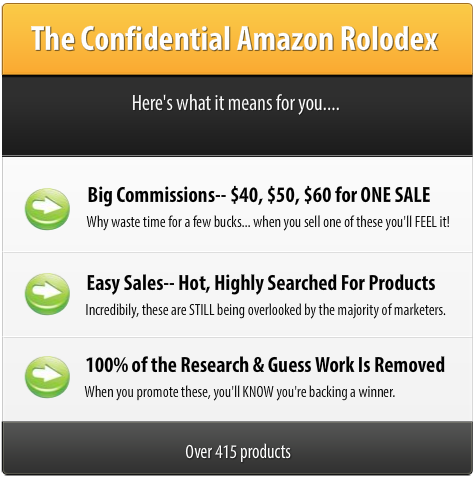 These products are high profit.

They are in wide range of niches (but astonishingly, hardly anyone seems to be taking advantage of them.)


Each and every one of them is HOT, HOT, HOT. (hundreds or thousands of searches a month) They don't come any hotter.


"It's simple... these folks are going to buy already. Jump in front of that purchase decision and grab a nice commission."

Just two of these categories will keep you busy all winter.

And you're getting them all, over 415 products, for just a few bucks.



So listen...

How much extra would you like to beef up your commission check by this month? ..

...$500 extra?
...$1,000?
....$2,000 extra or more?

With high ticket, high demand items-- that is easily within reach.



Grab this CONFIDENTIAL ROLODEX OF FORGOTTEN AMAZON PRODUCTS now for just $ 4.97

Best Regards,
Ken Sar
P.S. The customers searching for these products are ready to buy. Get out in front of them and grab that commission! Like shooting fish in a barrel.